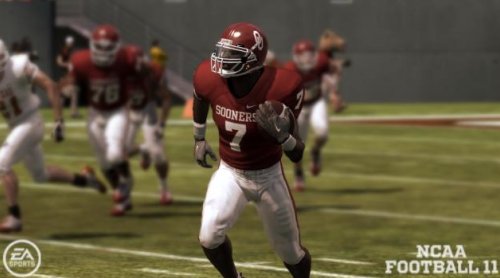 Last year the cover of Madden 11 was decided upon by fan vote after EA Sports chose a few candidates to put up for the honor. Ultimately the outcome was for all intents and purposes pre-determined providing absolutely no suspense. Drew Brees was intended to be the winner and obviously going to be so from the minute the names were announced.
A vote for the NCAA Football 12 cover could be much more interesting as there is really no standout collegiate athlete (in terms of popularity and marketing influence) entering the draft. According to the Twitter account for Oklahoma Sooners RB DeMarco Murray he has been chosen as one of four players who will be candidates for the cover. The news is set to be announced tomorrow on ESPN. Credit to The Gaming Tailgate for first noticing the tweets.
Other names that would fit for a fan vote purely as speculation are Alabama RB Mark Ingram, LSU CB Patrick Peterson, Missouri QB Blaine Gabbert, Washington QB Jake Locker, Clemson DE Da'Quan Bowers, Georgia WR A.J. Green, Auburn DT Nick Fairley, and Texas A&M LB Von Miller. Who do you hope to cast a vote for as the NCAA Football 12 cover athlete?