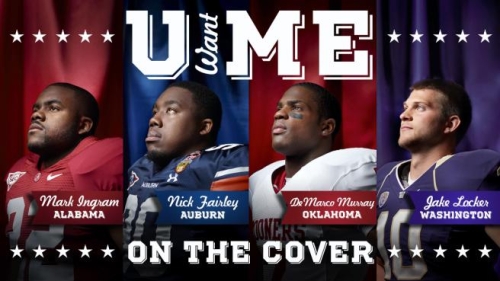 EA Sports has opened up the voting for the NCAA Football 12 cover athlete. The process is being conducted on Facebook from the NCAA Football page. As reported yesterday Alabama RB Mark Ingram, Washington QB Jake Locker, Oklahoma RB DeMarco Murray, and Auburn DT Nick Fairley are the candidates in the running for the honor.
While this is being conducted on Facebook in part to boost the "Like" number of the page (it is required to "Like" it in order to cast a vote) doing so should help to prevent any gaming of the numbers. It will also provide the opportunity for campaigns to be run for each of the candidates with the respective fan bases providing support for their guys.
The voting will continue through April 4th with the victor being announced on April 19th. If the official voting follows the pattern of the unscientific poll conducted here then Ingram is on his way to capturing the cover.