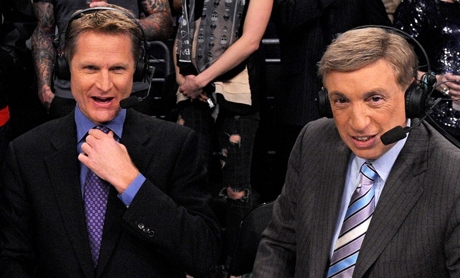 Ready for a nugget of NBA 2K12 news seven months out from release? Yesterday on the Damon Bruce radio show Kevin Harlan revealed that Steve Kerr will be a commentator in the game. No further details were discussed but it would seem to reason Kerr will be replacing Clark Kellogg.
Bruce did the voice-overs for the NBA 2K11 halftime shows and Harlan has been the play-by-play commentator on the series since 2K6. Kellogg joined as as color commentator in 2K9.
Steve Kerr acted as a commentator with the EA Sports NBA Live series starting with NBA Live 06 and the run ended following NBA Live 10. Partnering with Marv Albert the commentary was always well regarded, though gamers began to get tired of the duo and EA replaced them in the ill-fated NBA Elite 11. Given that history it is somewhat surprising that 2K would turn to Kerr but in a new setting he could make for a good addition to the game.
Thanks to RaiderNation80 on Twitter who first alerted me to the news. What do you think of Steve Kerr being a part of the NBA 2K12 commentary team? Leave your thoughts in the comments!