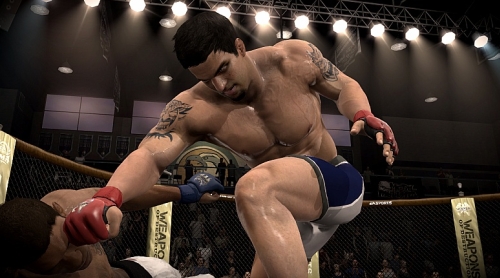 In a shocking development today UFC parent Zuffa has agreed in principle to purchase struggling rival MMA promotion Strikeforce. The official announcement is expected to come on Monday.
Though EA Sports has publicly vowed to develop EA Sports MMA 2 this news could bury the potential sequel. Strikeforce represented the main branding for the game, the majority of the roster was made up of fighters from the promotion, and the television broadcasts acted as the main marketing opportunity.
What isn't clear for the time being is how the contracts with Strikeforce as well as individual fighters will be handled. It is possible that the contracts were made for longer than just one year, but if that is the case then the UFC may now own all of them. Obviously the UFC would squash any attempts to use those fighters in a rival game to their Undisputed series.
Needless to say EA Sports' attempts to work their way into the MMA market may have proven all for naught. That is unfortunate given the quality of the first effort and its potential going forward as well as THQ's track record when they have the market to themselves. UFC recently extended their exclusive license partnership with THQ through 2018.
(Update) Despite early comments about the two promotions largely acting separately and current contracts being unaffected make no mistake about it, there is now no longterm viability for an EA Sports MMA. That is why they'd be likely to cut their losses sooner rather than later.