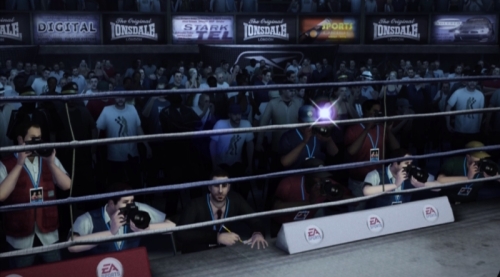 Earlier today the outline of what is expected in the upcoming patch for Fight Night Champion made its way out. Alongside that patch will be the release of new downloadable content. Details on the DLC are expected to be announced tomorrow evening but in advance a video has leaked out (via Kotaku) that purportedly shows what will be offered. 
If the video is real then a handful of legends are on the way with Joe Lewis, Rocky Marciano, Jack Dempsey, Jack Johnson, and Floyd Patterson. Cowboys Stadium, which appeared in EA Sports MMA, will also be made available as a venue.
The video has been out there for a few weeks now and though its legitimacy has been questioned there are reasons to believe it is authentic. CABs can't be created with some of those haircuts, ratings, or weights and EA has not responded to questions regarding the video (going so far as to delete links references from their forums). Along with the announcement of the content tomorrow it would seem to reason that the availability of the DLC as a pack or individually as well as the pricing will be discussed.