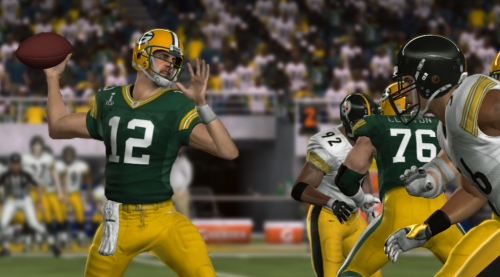 As anticipated the Madden NFL 12 cover athlete will be determined via fan vote in a 'March Madness' style tournament of 32 candidates. Each team has a representative with the voting to begin today and run through April with the winner being announced on April 27th.
Each Monday the latest voting results will be revealed with the winners moving on to the next round. The bracket will be revealed later this afternoon on ESPN SportsNation and the website to begin voting will be up then. The Madden 12 Facebook page will also be offering a bracket to fill out in a competition of predicting who will win in each round for prizes.
Candidates from each NFL team were selected and seeded based on a variety of criteria including on-the-field performance during the 2010 NFL season, their visibility within their franchise and community, and their personal career journey.
The names revealed so far are Aaron Rodgers, Drew Brees, Michael Vick, Maurice Jones-Drew, Adrian Peterson, Julius Peppers, and Peyton Hillis. This makes for a much more extensive and unpredictable voting process than was introduced last year with Madden 11 when Drew Brees went up against Jared Allen and Reggie Wayne. Check back later today for the official bracket! (Update) Find the full bracket here.