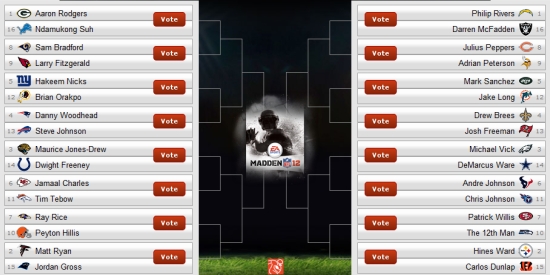 The full tournament bracket for the Madden NFL 12 cover has now been released. As reported earlier each team has a player up for the honor that will be voted upon in a 'March Madness' style tournament. The Seahawks' candidate however is "The 12th Man" rather than a player.
The seeding is somewhat odd, given that the Patriots representative Danny Woodhead has somehow pulled a four seed as one example. This may be due to the first round featuring all inter-division rivalries. The most interesting match-up is probably Michael Vick vs DeMarcus Ware. The attention grab EA Sports made by including Vick could ultimately see the odds being stacked against him. Despite the seeding Ware could get strong support from the Cowboys' fan base and those who dislike Vick. Adrian Peterson vs Julius Peppers will mean one of the favorites will be out in the first round.
Voting has opened up on the website! The first round winners will be announced next Monday and then the voting will continue.