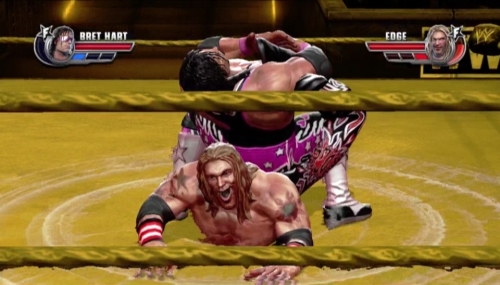 Though "Path of Champions" is the main story mode in WWE All-Stars and provides much of the offline depth there is also the "Fantasy Warfare" mode to play through. 15 matchups with a legend vs current superstar have been created with each having a personalized storyline based on the history of those involved.
The main pull to the mode comes with the promo videos that introduce each matchup. They are fantastic to watch and are really well produced spots. Unfortunately beyond that the matches are just standard 1vs1 affairs that feature no tie-ins to the stories or different stakes. There is nothing differentiating the actual matches in "Fantasy Warfare" from standard exhibition bouts except for what is earned by completing them.
Getting through the matchups in "Fantasy Warfare" is where ten of the wrestlers on the roster are unlocked: Superfly Snuka, Shawn Michaels, Mr Perfect, Eddie Guerrero, Sgt Slaughter, The Miz, Drew McIntyre, Edge, Jack Swagger, and Kane. There are also achievements/trophies that can be earned by finishing the mode. Check back for some online play thoughts possibly tomorrow or Monday and then the "Hits and Misses" review early in the week!