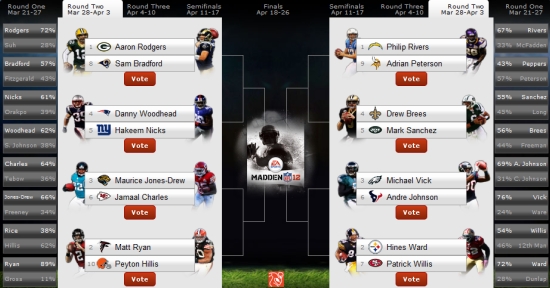 On to the second round in the Madden NFL 12 cover tournament as most of the favorites have advanced creating some compelling matchups. Vote for the second round here!
Michael Vick vs Andre Johnson is one to watch this week, as Johnson could be the type of personality that voters rally around to knock out Vick who got no challenge from DeMarcus Ware. Both Mark Sanchez and Drew Brees showed they were vulnerable in the first round and that could make for another tight race as they face each other. Maurice Jones-Drew vs Jamaal Charles and Philip Rivers vs Adrian Peterson could also go either way. Somehow though the bracket was set up to allow either Danny Woodhead or Hakeem Nicks into the elite eight.
What do you think of the first round results and where are you throwing your votes in the second round? Leave your thoughts in the comments!