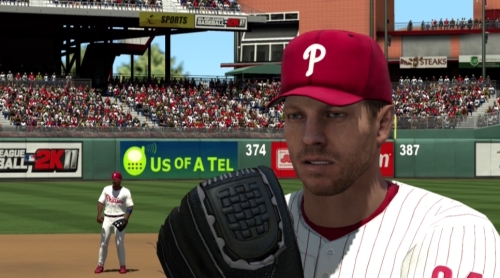 The opportunity to win $1 million by throwing a perfect game in MLB 2K11 begins tomorrow at noon eastern. Practically the whole marketing campaign for 2K11 has focused on the contest but interest appears significantly lower than last year where the winner pulled off the feat on the first day the game was out. Make sure to read through all the rules to make sure any attempts being made actually qualify.
The hope was that a patch addressing various bugs and AI issues would be delivered before the contest began but that won't be the case. Just yesterday it was stated that 2K Sports is still "continuing to collect feedback" at this point which means a patch is still at a minimum several weeks away. Given the loss the company takes on the series and their track record with titles that aren't selling well it is fair to question whether one will be delivered at all. 
I made a comment on Twitter yesterday regarding how frustrations could rise as consumers try to pitch a perfect game only to find their efforts spoiled by one of the many bugs present in the game. 2K11 is plagued by issues that could potentially scrub a run being made at the accomplishment and force restarts. A few responses raised the question of whether this could lead to lawsuits and that is interesting to examine.
There is certainly the possibility that someone will be on the way to a perfect game only to have something like the HR wall glitch occur and ruin it. That glitch in particular was identified first in the demo and remains still. The thing to remember is everyone out there will be recording their attempts so all of it will be on film. Though any lawsuits may not hold much merit or have much chance of winning it would not be surprising to see them rise out of this.
A big change for this year is that the contest begins on April 1st rather than release day. The issues with the game are well publicized and the company had time to fix at least some of them and chose not to (or simply couldn't do so) in time. That puts consumers in a position where they could point to 2K Sports being at fault rather than just a freak incident that could take place really in any video game. It is them after all that have put the product out in this condition and have turned the significant prize into their main sales pitch.
Regardless it is unfortunate that 2K did not get a patch out for the game by now, and their actions thus far don't exhibit much confidence for future post-release support. Good luck to those who do spend the time trying to pull off a perfect game while facing the obstacles along the way.