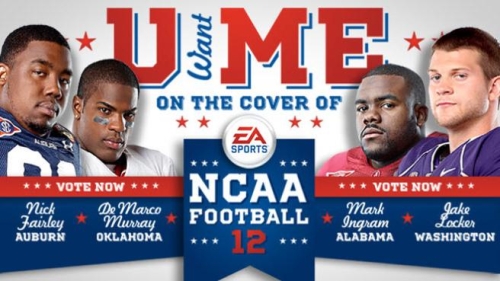 After a full month of the polls being open and accepting votes on a daily basis the campaigns for the honor of being the NCAA Football 12 cover athlete come to a close at midnight tonight. Cast your final ballot at the game's official Facebook page.
The announcement of the winner is being reserved until Tuesday April 19th. All indications have pointed to Alabama running back Mark Ingram cruising to a relatively easy victory over Washington quarterback Jake Locker, Alabama defensive tackle Nick Fairley, and Oklahoma running back DeMarco Murray.
On a positive note the completion of the voting period should open up for the promotion of game features which has taken a back seat as EA Sports pushed the cover story. There has only been one blog to date and that focused on graphical improvements accompanied by a few screenshots. By the first week of April last year there had already been heavy details on new features as they were unveiled through a media preview and four blogs.