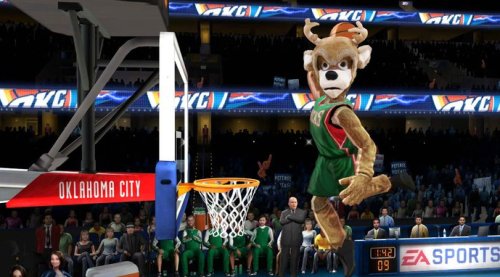 Though the confirmation that there will be no NBA sim title released this year was the big news out of EA Sports today they also announced a new version of NBA Jam to release in its place. NBA Jam: On Fire Edition will arrive in the fall as a downloadable offering through Xbox Live Arcade and PlayStation Network. 
REAL AI: Featuring the ground-breaking AI system used in the Fight Night franchise that learns your tendencies and throws them back in your face.

JAM Arena– Play solo, or team up with friends and take on the world in a new, dynamic online competition.

Road Trip – A cooperative online campaign where you can team up with friends and compete in a series of white-knuckle challenges against the current superstars and timeless legends from each of the 30 NBA Teams.

Tag Mode and Team Fire return! – Swap players "on the fly" and ignite your entire team by performing consecutive cooperative moves!

More NBA JAM Hotness – Online roster updates, more NBA superstars, legendary NBA players, over-the-top animations, JAM challenges, secret teams and unlockable characters than ever before
I don't fault anyone for being insulted by this announcement, particularly since it comes so soon after EA Sports confirmed they were abandoning consumers on the recent NBA Jam by providing no post-release support not even a single roster update. Now they are touting things like roster updates, and other elements that were inexplicably left out of the last one such as Tag Mode, as new exciting features.
EA should really be a little more mellow in how they market this title than some of the the statements I've already seen in the press release and coming from their Twitter accounts. Considering many consumers were disappointed with their first attempt at NBA Jam, to the extent of feeling ripped off, On Fire Edition is going to be a tough sell.