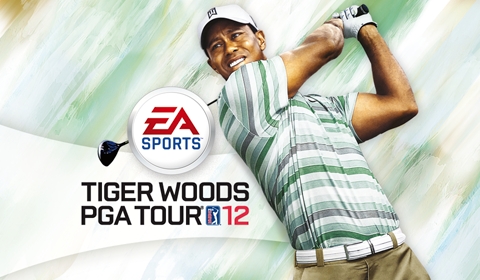 By Brian Sipple
Tiger Woods is an enigma. As his continuing struggles on the golf course show his future is subject to anyone's best guess and his swing seems to have run off with Elin and the kids. If there's anyone alive who can truly comprehend what's going on in Tiger's head right now, he's probably too busy making a fortune in the stock market or helping the U.S. government find Bin Laden. I mean, seriously, how do you fall from worldwide icon, become the butt of a million bad jokes, land on borderline irrelevancy and then pick yourself up off the pavement to appear in public, much less tee off at Augusta National?
The best thing going for Woods right now might be the video game franchise he's managed to keep his namesake attached to. The series has had one of the better runs in sports gaming and returns to the iPhone and iPod touch in its latest installment, Tiger Woods PGA Tour 12, priced at $6.99. While EA's second shot at an iOS golf game lands within range of an eagle, it gets in the rough just enough to have to settle for birdie. 
The swing mechanics in PGA Tour 12 are very similar to previous version – and that's a good thing. All of your tools are laid out on the screen, with club selection and shot type on the left and a target camera on the right. When you're ready to take your shot a swing meter allows you to swipe down for power and back up for accuracy. You can even hold your swipe down to add a boost, provided you get the right timing.
The twist for this year is that, while getting 100% power on a shot is a cinch, getting the right trajectory presents a unique challenge. The sensitivity of the meter responds appropriately to the direction of your swipe, which means you need to work for a straight shot but can still put an angle on it should you try and get crafty.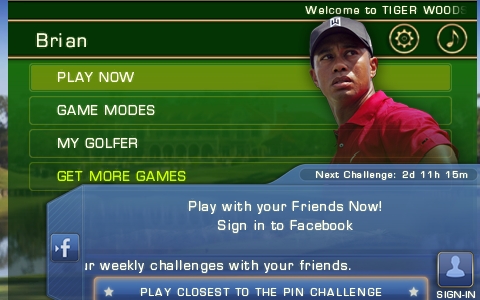 PGA Tour 12 features a solid mix of game modes, including an innovative Facebook-integrated "Closest to the Pin" challenge. Players can synchronize the game with their Facebook account and compete with friends on various holes to land shots as close to the pin as possible. The interface lets you see your friends and their stats on screen and provides an entertaining social component to the game. Also included is the Tiger Challenge from the console iterations, head-to-head multiplayer, and the PGA Tour.
The PGA Tour mode is fun to play through each event as you earn money and compete in the standings, but the limited number of courses (eight to be exact) starts to show its face here. Unlike the console game, this year's iPhone edition doesn't feature The Masters, which means that the April 7th event is replaced on your schedule by an aptly named "April Fools Classic" at St. Andrews. In fact, St. Andrews pops up on the Tour calendar so much, I dare say that the Old Course starts to become just that – old.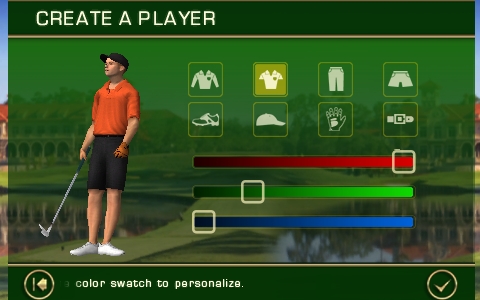 In what seems to be par for the course among iPhone sports titles PGA Tour 12 adds a light created player feature. Naming your golfer, you can customize his or her appearance and clothing and then compete across various game modes for prize money to buy equipment. New equipment boosts your golfer's attributes and provides some great incentive to keep improving over the licensed AI pros, who happen to play golf like nobody's business.
Graphically PGA Tour 12 isn't the strongest offering we've seen from an EA Sports iPhone game. Player models seem human enough, but it's the courses – part of what make golf such a beautiful game – that feel neglected. Landscapes are rather barren, and whatever greenery is rendered could use a little more polish. The course textures also feel rough and choppy – especially while the shot camera is flying by at Mach 1. Combine that with the fans, who are few and far between, and it's hard to feel like you're playing at any kind of major golf event.
Jim Nantz is often asleep at the wheel and some of his commentary comes off as construed and irrelevant. I enjoyed David Feherty's analysis, but he's way underused and fails to establish any real presence. Despite the poor commentary, however, in-game sound effects fare much better. Every shot off the club face and chip out of the sand has a clear and distinct sound that lends well to the atmosphere of the game.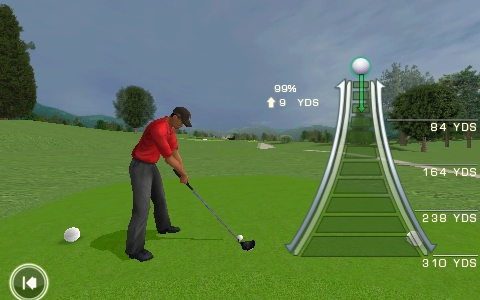 Tiger Woods PGA Tour 12 isn't perfect from a technical point of view yet I can't help but feel entertained by it. Controls play well with the iPhone's touch screen and the skill needed to make an accurate shot provides immense satisfaction when you hit the ball just right. The social integration aspect encourages replayability across each mode to keep improving your golfer. EA's $7 price tag might be a bit too steep to entice casual players, especially considering the meager graphical prowess and small course selection. Those who decide to take the leap though won't find a better game of golf on the App Store.
Thanks to Brian Sipple for taking the time to put together impressions of Tiger 12. The game is available now for $6.99 on the iPhone and iPod touch and $9.99 on the iPad.