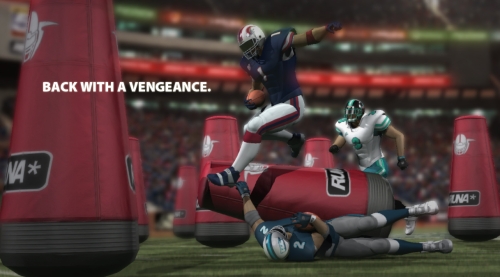 The initial reveal of a new Backbreaker came yesterday with the first screenshot that hinted at a "Tackle Alley" concept rather than a full sequel. That idea seemed well suited to be distributed digitally as a downloadable-only game. Now NaturalMotion has confirmed that Backbreaker: Vengeance is headed to Xbox Live Arcade this summer.
There are different potential reasons why Vengeance would be released only on XBLA and not for the PS3 as the announcement made no mention of the game being made available on PSN. That could mainly be due to bandwidth charges that Sony lays on the publishers whereas Microsoft covers the costs. The 360's user base is larger and downloadable offerings sell better on the platform. There could also be some sort of exclusivity or marketing agreements involved. NaturalMotion is a relatively small studio and they may be self-publishing this title.
Backbreaker 2: Vengeance released late last year for the iPhone, iPod touch, and iPad to great reviews and very strong sales. NaturalMotion now looks to transition the "Tackle Alley" concept to its own console-based product, which in Vengeance added various obstacles to the challenge.