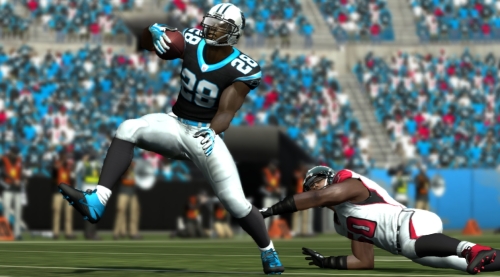 Following the colossal failure of NBA Elite last fall EA Sports dismissed the General Manager of their EA Canada studio and repositioned the General Manager of their Tiburon studio (Philip Holt, who is believed to be founding the social gaming company luring Tiburon developers). The restructuring was done to put more focus on individual franchises by creating a GM position for each particular title or sport rather than a single one on the studio level. 
Speaking at the press event being held by the company, Tiburon football GM Cam Weber touched on the vision going forward for the Madden NFL franchise. Of note is that there is a new "three year plan" underway with features already mapped out through Madden 14. The size of the development team is expected to be doubled as well. That news might be an attempt at reassuring consumers that the company is invested in advancing the franchise despite the turmoil and uncertainty now being experienced due to big changes within the current development team.
The "three year plan" was inventive and effective many years back with the MVP Baseball franchise but really hasn't been executed in that same sense ever since. Many different series such as Madden, MLB 2K and NBA Live have talked of such a plan and none have delivered on the scope of what that is meant to define. The companies involved have instead opted to react more year-to-year and change directions and priorities on the fly rather than fully realizing the long-term plan they set out to fulfill.