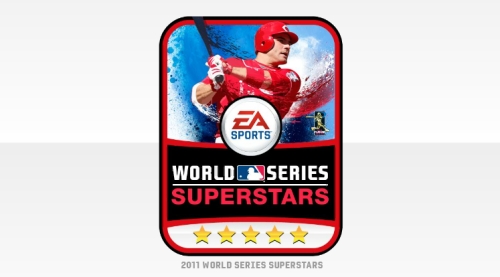 With the third party license on consoles stretching one more year EA Sports has finally gotten back into baseball by taking the avenue of creating a team management sim on Facebook. Joining Madden and FIFA Superstars which have amassed over five million daily users on the social platform, World Series Superstars includes the MLB license and more in the way of micro-management. It has easily become the best offering from EA/Playfish to date. 
WSS includes features that those who have played Madden Superstars or FIFA Superstars have been asking for since their inception. The "games" can actually be managed and influenced beyond just the use of "game changers", Playfish Cash is earned through leveling up, fans are earned with each victory, and a consistent cycle of goals have been added that when completed provide earnings of coins and tickets.
The games allow for management of every at-bat providing the chance to really earn victories though they can also be quickly simmed if chosen. Not only is there that situational control within games but the roster can be manipulated strategically by setting the batting order, pitching rotation, and closer.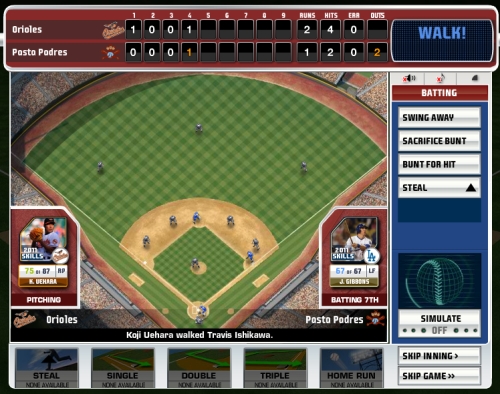 Personally I like having speedsters who when on base can steal their way into scoring position, though early on that might be the obvious strategy since the low rated players don't have much pop anyway. That is what is great though about building the teams and putting together lineups that fit your own style of management and will only get better when the talent is upgraded. One of the first games I played against a Major League club turned out to be a really satisfying experience as I was able to grind out a victory over a much higher rated team. The one glaring omission is the option to pinch hit and pinch run.
Most surprisingly is the challenge involved as even a big difference in team rating doesn't mean automatic victory. I'd estimate having won just about 50% of the games so far, as just like in real baseball it is a game of numbers and guys will have their on and off days. My top rated offensive player may go 0-4, my best pitcher may give up five runs early, its realistically unpredictable. The starting pitching rotation also means having just one dominant starter isn't enough and leads to ups and downs. A discouraging perception has been building however that wins are slightly easier to come by when simming than when managing. Statements from Playfish have indicated it is designed to be the opposite.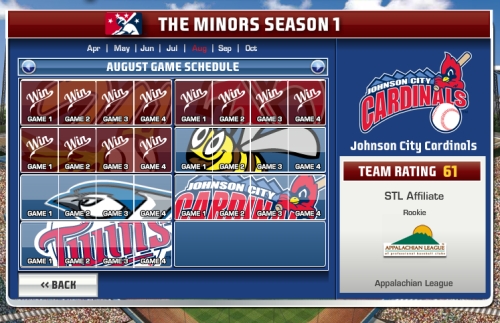 The MLB license means not just MLB teams but also the real minor league affiliates. There is a set of games to play through the minors (184 total games) and majors (a five game series against every team to reach the World Series). The major league teams are much higher rated and there is some risk in playing them as a loss will provide experience points but no coins while a win will get about double what is provided from beating a minor league team. There are even bonuses for "sweeping" major league clubs by beating them on the first attempt through a series, giving more incentive to either wait until the user team can really compete or resort to using "game changers" to pull out the victories.
Though the addition of PlayFish cash for leveling up is a welcome one they have balanced it out by making it a necessity to use more often. More of the "game changers" require PFC to purchase and there is now a "construction crew" for stadium improvements and those workers can be hired with PFC. While spending cash will certainly make progressing more of a breeze it is far from necessary to advance in the game as it just requires more patience for doing so.
Performance wise World Series Superstars is quicker in navigation but seems to hang more when starting up games, loading up the box scores as they end, and collecting practice points. Despite that it has proven much more consistent overall than the other Facebook offerings in their early days.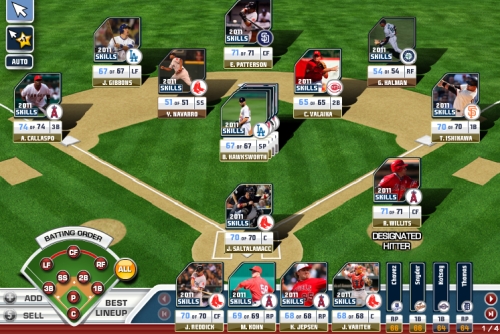 There is of course a lot to look forward to with World Series Superstars including the "predictor" game that will be launching soon and other improvements that are lined up to be introduced. WSS has quickly become my favorite of the Facebook games and it has a promising future considering the resources that are being dedicated to make it a success.