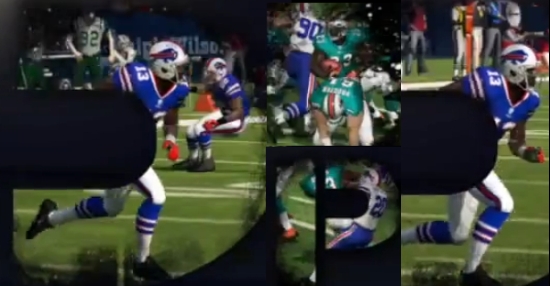 Back in February the Buffalo Bills announced they would be debuting new uniforms for the 2011 season. The official reveal of the design has yet to be made and is being held for a "fan appreciation event" later in the year. One of the Madden NFL 12 teaser videos however appears to have provided a glimpse at them early. 
In the gameplay teaser at the 13 second mark is Bills receiver Stevie Johnson running a route and making a diving catch along with a few other players including Lee Evans and Fred Jackson flashing by in the background wearing home uniforms. The road uniforms are also seen later in the video at the 17 second mark in the bottom of the "Y" and then immediately following in the "P".  They are wearing a uniform that certainly appears to be influenced by their throwbacks but are different in several subtle ways and utilize the team's current logo with the white helmet. This syncs up with rumors of what the new uniforms were expected to look like. (Update) ESPN has sources which have confirmed these to be the new unis and EA has pulled the video.
Two years ago the Seahawks alternate neon green jerseys were first seen in an off-screen video of Madden 10 but having not been officially announced they were subsequently pulled from the game by release only to be reintroduced in a patch later. What makes this reveal of uniforms surprising is that the video is an official trailer from EA Sports that was approved by marketing and likely the NFL as well prior to the Bills' first introducing them.