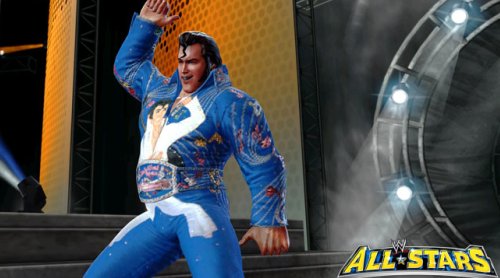 The first set of downloadable content for WWE All-Stars has arrived for the Xbox 360 after being delayed for over a week. PS3 gamers received the DLC two weeks ago before PSN went out of commission. Due to the delay THQ has announced that R-Truth will be offered for free come release of the second set of DLC, the time frame of which is currently unknown.
Those who pre-ordered from GameStop will now be able to use the provided code to download the "Million Dollar Pack" which includes Ted DiBiase and Ted DiBiase Jr. Those without a code can expect them to be made available for purchase at a later date. Honky Tonk Man is free to download for everyone. The other option is the "American Dream Pack" that includes Dusty and Cody Rhodes and costs $2.
WWE All-Stars: American Dream Pack ($1.99)
Get funky like a monkey if you will and download the American Dream Pack, featuring 2 new downloadable characters for WWE All Stars: WWE Hall Famer Dusty Rhodes and his son, "Dashing" Cody Rhodes.

WWE All-Stars: Honky Tonk Man (Free)
Don't be cruel! Download and play as the Greatest Intercontinental Champion of all-time, the Honky Tonky Man, in WWE All Stars!
Details on future DLC releases have yet to be discussed beyond the names of those so far confirmed: R-Truth (free), Big Bossman, Chris Jericho, Hawk and Animal, Jerry "The King" Lawler, Michael Hayes, and Mark Henry.