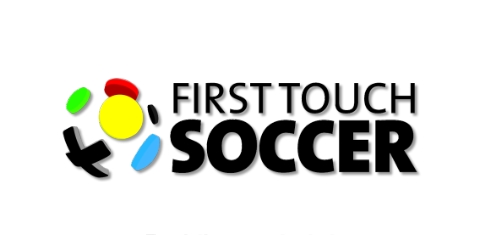 By Brian Sipple
Ask any soccer coach or player and they'll tell you that even if you can kick like Messi or "bend it like Beckham" it won't matter without a good first touch – that initial contact a player makes with the ball to bring it under his control. It's fitting, then, that First Touch Soccer's opening impression is one that immediately captivates the player, and goes on to provide the fullest soccer experience on the App Store.
The first thing that jumps out about X2 Games' latest offering is the massive amount of content the game provides. While a standard season mode and quick play would be the extent of most iPhone games it's just the tip of the iceberg in First Touch. With over 250 clubs from leagues across the world you can play across 8 different game modes including Quick Match, Season Mode, Tournament Mode, Dream Team, Star Player, Penalty Shootout, Training, and Multiplayer.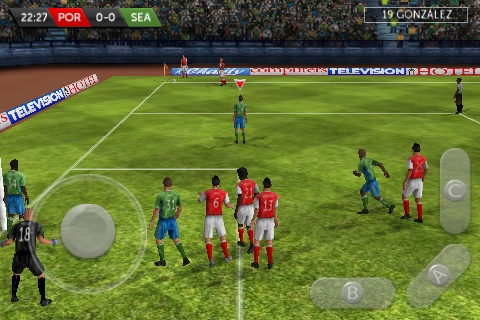 The new Star Player mode gives you control of a single player as a unique camera angle follows him around. This can lead to some really immersive action for positions like strikers or forwards that see a lot of offensive touches. I only wish X2 would have integrated Star Player into a full career mode rather than what seems to be a modified quick match.
Season mode is what you would expect, with the ability to take your team through its league's season and compete for its cup. Strategy and lineups can be managed along the way and there's a substantial level of stat tracking as well. Tournament mode can be used to skip right ahead to the cup playoff at the end of the season, and there's even a global online multiplayer mode that functions normally except for one or two frame rate hiccups.
Dream Team is another great feature in the game where you work to assemble the best players in the world and dominate across various tournaments. While your original squad is no South Beach Dream Team (in fact they're about as bad as it gets) you have the ability to change that by earning tokens through gameplay performance and using them to buy better players. This lends plenty of depth to the mode, which is further enhanced by a multitude of customization options like the uniform creation tool. The best part about Dream Team though is the ability to take them into online multiplayer matches against another Dream Team, but unfortunately this doesn't earn any tokens for advancing your team.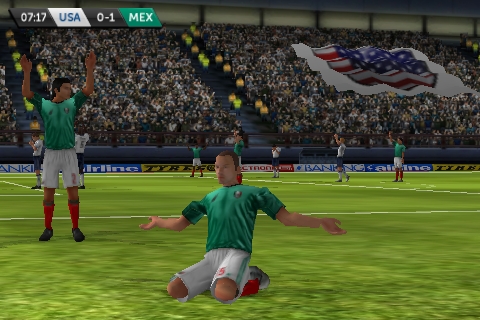 The expansive feature list is no façade either. First Touch's gameplay is so polished it's easy to forget you're playing it on an iPhone. AI opponents bring their A-game every time out, and even the lowest difficulty setting presents a fun challenge. The plethora of animations make for incredibly realistic movement, and the frame rate runs along perfectly. However the biggest reason behind First Touch's success is its control scheme.
First Touch's controls are so easy to learn that the tutorial only took about three minutes and from there I was set. The left-hand floating d-pad controls every aspect of movement and three buttons are mounted on the right for ball-handling. On offense these buttons find an ideal harmony between simplicity and sophistication, as their functions vary depending on the game situation. When aiming at the goal with the d-pad the buttons correspond to low kicks, lobs, or hard kicks. When aiming anywhere else on the pitch the same buttons correspond to low passes, through passes, or clearances respectively. This allows for a wealth of accuracy and command with the ball and adds to First Touch's excitement.
No review of First Touch should fail to laud the paramount attention to detail – both graphically and from a presentation standpoint. The animations and visuals are on par with any game on the App Store. Stadiums and crowds are gorgeously rendered and there are even rain and snow effects that show pretty convincingly on the screen. Finally you can play a FA Cup final match in the middle of a snowstorm.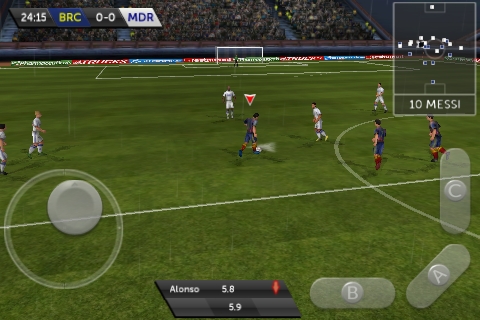 First Touch is backed by a sleek and simple menu interface that's easy to navigate and features an awesome licensed soundtrack – although you can always sub in your own Lady Gaga playlist if you don't agree. It's also easy to connect the game with Facebook, Twitter, and YouTube and post achievements or highlights grabbed from the in-game instant replay system. The one pitfall of presentation across seemingly every iPhone game, stale commentary, does persist here too, but it's hardly an issue with everything else First Touch manages to achieve.
First Touch Soccer leaves no stone unturned excelling in nearly every possible facet. Even with the success of EA's FIFA series there's no other soccer game that fuses as much quality, entertainment, and depth as First Touch. And did I mention it's only $.99 on the App Store right now? That's truly a value, and furthermore an experience that can't be beat.
First Touch Soccer is available now for the iPhone, iPod touch, and iPad.