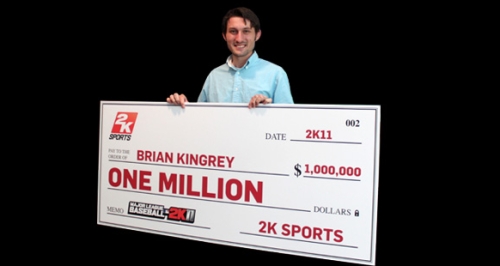 2K Sports today announced the winner of the MLB 2K11 $1 Million Perfect Game Contest. Brian Kingrey of Hammond, Louisiana walks away with the prize after pitching the first verified perfect game following the opening of the contest on April 1st. Like last year the feat was completed on the first day however it happened even quicker this time around.
The feat was completed within two hours of the contest opening up which is especially surprising given the general perception that the task at hand was to be more difficult in 2K11 than it was in 2K10. It was accomplished using cover athlete Roy Halladay and the Phillies against the Astros. What may irk those who put in a lot of time in their efforts even more is that Kingrey had never even played a baseball video game before picking this one up. That might be more telling about the state of MLB 2K11 than anything.
Though it may seem that 2K Sports is throwing money away with these contests considering the sinking ship that is the MLB 2K series they have produced quite a bit of free press in return. Consider the mainstream attention that will now come with this announcement and it's easy to see how they are getting their value's worth. Most websites and news programs would not have MLB 2K on their radar at this time of year.