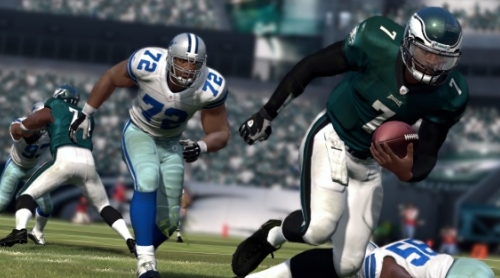 EA Sports has released a new blog and accompanying trailer going over one of the big feature additions for Madden NFL 12. Dynamic Player Performance is being introduced in an effort to provide a more realistic gameplay experience by factoring in things like consistency, confidence, and specific player traits.
Believe me, I already know what you're thinking; "…just another gimmick…" or "Haven't they tried this before (weapons of Madden NFL 08)?" Let me set your mind at ease; this is NOT a marketing ploy and this is like nothing we have ever done before. Dynamic Player Performance is an in-depth, yet subtle, new system that will capture the real essence of NFL players, resulting in the most realistic Madden ever. With this new technology we are able to manipulate many different aspects of gameplay, ranging from player specific AI to consistency or even being able to dynamically affect player performance throughout the course of a game.
Not only will the ratings change from game-to-game but they will fluctuate within games from play-to-play. Player traits will also help to differentiate individuals and give them some personality. These additions are long overdue but ultimately the feature will succeed only if it's implemented and balanced properly. Continue on to check out the trailer which looks at Eli Manning struggling early then turning it on late and leave any thoughts in the comments!