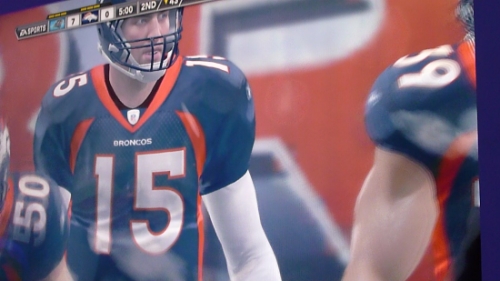 Day two of E3 is in the books and now the focus will be on getting out even more content primarily relating to Madden 12. Several videos are in the queue but most will have to wait until Thursday and Friday. For now I've been able to get through the clip from earlier today and now a new one featuring a snow game with Tim Tebow and the Broncos vs Cam Newton and the Panthers. There will be more from this game to come.
The Facebook album now has even more pictures of the 'player traits' with the following players having been added today: Ben Roethlisberger, Maurice Jones-Drew, Michael Vick, Dez Bryant, Donovan McNabb, Tim Tebow, James Harrison, Chad Ochocinco, Lamarr Woodley, Adrian Clayborn, Ben Watson, Marshawn Lynch, Cameron Heyward, Cedric Benson, Adrian Wilson, Chad Henne, Anquan Boldin, Chris Clemons (MIA), Cortland Finnegan, Eugene Monroe, Ryan Torain, Gerald McCoy, Jonathan Baldwin, Glenn Dorsey, Golden Tate, Isaiah Ekejiuba, Mike Williams (TB), Walter Thurmond, Jonathan Vilma, Matt Light, and Prince Amukamara.
There are still over 150 more of those to go! Continue on to check out the latest video and leave any thoughts in the comments!