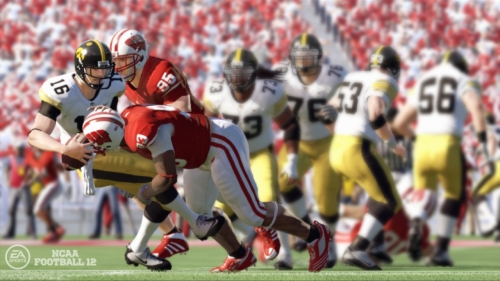 Amazon has a tendency to run their own promotional offers on video games and often that is a credit to be used on future purchases. As mentioned earlier today that $20 promotional credit for Madden NFL 12 makes it essentially $40 to get the game new (and in turn makes the CE an even worse value). Amazon offered the same deal last year for Madden but until today had not offered a credit for NCAA preorders.
The company has just announced that NCAA Football 12 preorders will receive a $20 promotional credit and it has now been reflected – 360 version here and PS3 version here. This is offered in addition to the preorder deal already detailed of a "starter guide" to offensive and defensive plays. Even better is that the Xbox 360 version is $3 off making that one essentially $37 and the PS3 version then $40. Update: The 360 no longer has the $3 shaved off. (To clarify the $20 isn't coming off the cost of NCAA 12 – instead it is applied towards a future purchase on the site).
The only downside is that Gamestop has the five exclusive Pro Combat uniforms as their preorder deal. I doubt most people would want to pay the difference in price just to get those jerseys however. Shipping wise release day delivery from Amazon is reliable and only costs $1 – or is free for Amazon Prime members.
If you're going to buy NCAA Football 12 this is the time and place to get it. There is little reason to wait for a used copy with the "Online Pass" that would tack on $10 to whatever reduced price it could obtained for. For the next few months it seems unlikely there will be a cheaper option found than this deal at Amazon and that is with getting it brand new on release day!