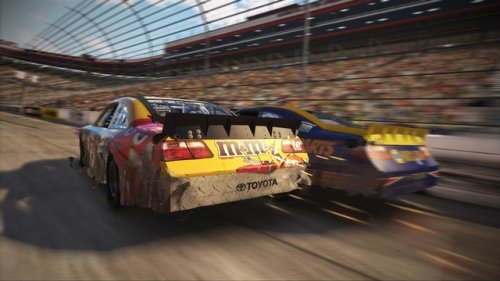 Nascar 2011: The Game released in disastrous condition back at the end of March. The game was not ready to release and was pushed out by Activision at the end of Q4 in order to keep it from sliding into the new financial year. Numerous severe bugs and broken online play dominated discussion around release and has ever since amongst the crowd that bought it and the few who didn't abandon it soon after.
It has now been nearly four months and the patch for Nascar 2011 still hasn't arrived. Despite that the company has been promoting a free DLC pack all along that will (finally) update the game to the 2011 season.
Today developer Eutechnyx detailed the plans for the free DLC. It will cost 160 MS points on the 360 giving new meaning to the word "free". It will however carry no charge on the PS3. Regardless why the DLC is being sold for the 360 having promoted it as free in order to deflect some of the negativity all the while having delay after delay on the critical patch is beyond explanation and insulting to those who have stuck with the game despite all the problems with it.
There is still no date locked down for the patches other than to expect them in the "coming weeks". The DLC is expected to follow soon after the patches arrive on the respective systems.