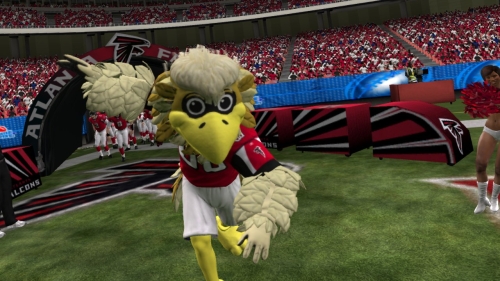 Yesterday EA Sports released the names of the four players rated 99 overall in Madden NFL 12. They have followed that up with the top ten overall rated rookies. As anticipated the Cardinals snagged the highest rated rookie in the draft with Patrick Peterson but he will share the honor with the Bills' Marcell Dareus. Both players come in at an 82 overall. 
1 – Patrick Peterson, CB, Arizona Cardinals (82)
2 – Marcell Dareus, DT, Buffalo Bills (82)
3 – Prince Amukamara, CB, New York Giants (81)
4 – A.J. Green, WR, Cincinnati Bengals (80)
5 – J.J. Watt, DE, Houston Texans (80)
6 – Von Miller, OLB, Denver Broncos (79)
7 – Mike Pouncey, OG, Miami Dolphins (79)
8 – Mark Ingram, RB, New Orleans Saints (79)
9 – Julio Jones, WR, Atlanta Falcons (78)
10 – Robert Quinn, DE, St. Louis Rams (78)
Notably absent from the list is #1 pick Cam Newton but that should not come as a surprise. Quarterbacks play by far the most complex position, typically contribute the least as rookies, and even high draftees may sit the first year or two. He will probably settle in with a 74-77 rating but as the top pick EA in the past has given some benefit of the doubt even to QBs.
Sam Bradford missed the majority of his senior season at Oklahoma prompting questions about his durability and still received an 80 overall to start Madden 11. What he lacked in athleticism – Newton's strength – Bradford made up for in accuracy and awareness while being the clear first day starter for the Rams. Newton is projected by many to be the starter but there is still some question of whether Jimmy Clausen, Matt Moore, or a veteran free agent will open the season in the role. He will need to be on the field to progress in roster updates.
A couple other things stand out such as J.J. Watt being rated higher than Von Miller. That one could conceivably be chalked up to perception that Miller was best suited to be a 3-4 OLB but instead goes to a team transitioning to a 4-3 defense. Prince Amukamara however landing as the third highest rated rookie would be difficult to justify. Considered the second best corner in the draft he fell all the way to #19 even as teams starving for help in the defensive backfield like the Cowboys, Lions, and Texans all passed on him. Nick Fairley could have fit in the group given he had long looked to be the potential #1 pick but attitude and effort held him back – traits that are typically not represented in Madden.
What do you think of how the top ten rookies in Madden NFL 12 line up? Leave your thoughts in the comments!