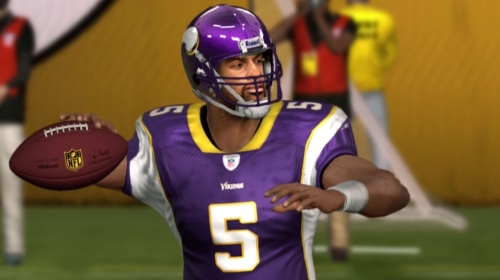 The landscape of Madden NFL 12 is set to change with the opening of transactions for the upcoming season. With that in mind each move – whether that be a trade, signing, or release – will impact the way teams shape up for Madden 12. Here is an early look based on reported transactions thus far, though remembering that deals may have been agreed to but aren't official yet. This is something I'll be working up a few times over the next week or so as the situation is fluid and many significant moves are yet to come. 
Early Winners
Final Madden 11 ratings in parentheses
•Carolina Panthers
The Panthers have decided to spend lots of money and that extends even to a kicker. More importantly they are keeping their best players around. They have resigned Charles Johnson (88), DeAngelo Williams (89), James Anderson (83), and Thomas Davis (87). They overspent on an aging kicker but Olindo Mare (86) is still one of the best in the league.
•Tennessee Titans
The team gets a veteran QB and leader in Matt Hasselbeck (84). That means Jake Locker isn't going to be rushed into the starting role and has an ideal guy to learn behind. The Titans have to worry about their star running back Chris Johnson though who wants a new contract.
•St. Louis Rams
Quintin Mikell (86) is one of the more underrated safeties in the league and will be a good replacement for the loss of O.J. Atogwe. There are other holes to fill still and losing out on Barry Cofield may have hampered their plans.
•Seattle Seahawks
Losing Matt Hasselbeck stings as a fan but he has been no better than mediocre in Madden for the past few years. Tarvaris Jackson (72), or Charlie Whitehurst (71), may fare better due to their mobility and arm strength despite the drop in overall rating from Hasselbeck. It is the offensive line though which will see the biggest upgrade over last year after drafting two immediate starters and signing Robert Gallery (86). That will benefit a downhill runner like Marshawn Lynch. The team is still pursuing Sidney Rice (according to Jay Glazer the deal has been agreed to) so that is a huge acquisition for the offense.
•Washington Redskins
Along with the Panthers they have been the most active team thus far. They have four three transactions alone at wide receiver having resigned Santana Moss (86), picked up Donte Stallworth (68) and Brandon Stokely (74), and traded for Jabar Gaffney (76). The bigger move is picking up Barry Cofield (86) for the defensive line considering Albert Haynesworth isn't going to stick around. The Redskins also grabbed Josh Wilson (78) who was one of my favorite players as a Seahawk. They do lose Donovan McNabb which means John Beck (62) is the likely starter and that is a big downgrade at least in Madden terms.
Early Losers
Final Madden 11 ratings in parentheses
•San Francisco 49ers
The 49ers have been quiet thus far other than resigning Ray McDonald but their name has come up regarding Nnamdi Asomugha (98) which, if they were to sign him, would obviously shoot them into the winners category. They are going to cut Nate Clements (84) sooner or later who has been disappointing since signing a huge contract with them but the loss will still hurt the secondary unless a capable replacement is brought in. They also spent another $5 million to bring back Alex Smith. Frank Gore plans to hold out which complicates things as well.
•Minnesota Vikings (UPDATED)
Getting Donovan McNabb (82) to bridge the gap until Christian Ponder takes over makes sense. He is far from being the McNabb of a few years ago but within Madden will probably remain somewhat overrated and certainly higher than the rookie. The team also nabbed receiver Devin Aromashadu (71) from a division rival. They'll need to keep Sidney Rice though to stay as 'winners'. (Update) And they've lost Rice to Seattle so they go from 'winners' to 'losers' for now.
•Baltimore Ravens
The Ravens had to address free agents on their offensive line and they did immediately by resigning Marshal Yanda (84). Cuts though to some valuable performers over the years will hurt them in the short term. They had to let go of Derrick Mason (87), Willis McGahee (79), and Todd Heap (84).
•Dallas Cowboys
With the salary cap in place the Cowboys had to make some cuts even just to resign a few of their players. They had to spend $8 million a year on tackle Doug Free (84). That meant letting go of Marion Barber (76), Roy Williams (81), and Leonard Davis (88). Underachievers but they had value in Madden. The team doesn't have the cap space to make the big signings fans would want.
•Teams Sitting Still
There are a number of teams that have laid low early. There is still opportunity for many to make a splash but many may not be in position to do so or are waiting for the pieces to fall and try to fill spots based on value. The Eagles could easily become 'winners' by trading away Kevin Kolb and signing Vince Young. Of course Nnamdi Asomugha will take any team (Jets/Texans/49ers) into the 'winners' category. If Kyle Orton (83) is dealt he could be a big boost to a team like the Dolphins as well.