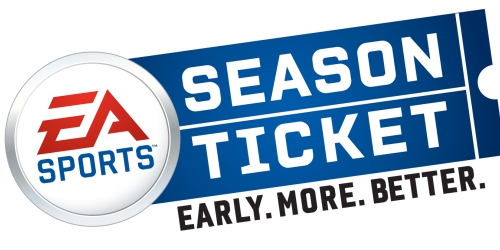 The EA Sports 'Season Ticket' was announced earlier this week and to no surprise the initial reaction towards the subscription plan was largely negative. Though in and of itself the offering may be intriguing and is relatively inoffensive – what it represents for the future is what seems to bother consumers the most. Until then only the plan placed in front of consumers can be analyzed and in the case of the 'Season Ticket' it provides far less value than EA would suggest but it still may hold appeal for some. 
The timing of the announcement was definitely poor. Coming on the heels of established media outlets questioning the need to purchase games on day one due to all the issues they've been shipping with here comes EA to offer the chance to pay to play them even earlier. It may have best been announced at E3 or in the lead-up to NCAA 12's release but by missing that window the company absolutely had to get it out in advance on Madden 12 which will drive sales the most out of the five titles that will fall under the 'Season Ticket' umbrella.
Of course there is the potential that early access could lead to bad word of mouth and hurt sales. The first few days of play though are generally positive so that risk seems negligible. Should any huge issues be discovered during that period however they will be out there prior to official release of the games. That could be a net win for consumers if the issues were big enough to sway a purchase decision and prevent entering into a frustrating situation.
For now the 'Season Ticket' will include perks for Madden NFL, NHL, FIFA, Tiger Woods PGA Tour, and NCAA Football. Not having an NBA or MLB product hurts the potential of the subscription but until those products return to EA's portfolio these five are their steady yearly releases. The idea here from EA's perspective is having titles like NHL, FIFA, and Tiger included could lead to more sales as consumers have the window to try those games for three days and may find they like them enough to go out and purchase them.
•Early Full-Game Digital Access
Three days before a game's scheduled release, fans will be able to download and play the full version of all five participating titles on Xbox 360 and PS3. The digitally downloaded game will time out when the game is available at retail and consumers have the option to purchase the same full game on disc at retail. EA SPORTS Season Ticket subscribers can transfer all achievements earned during the three-day download period to the purchased disc, resulting in an early edge over the competition.
This is what will sell the subscription. Had it been a full week early (which they considered) I could see many jumping on board and in excited fashion. Three days early makes things more questionable. The downloads will go up on the Friday evening before release (accounting for the several hours that will be needed to download) and expire early AM on the Tuesday of release.
Certainly EA is looking towards a day when digital distribution becomes standard and are weaning consumers onto the idea. It's somewhat surprising that they aren't offering the opportunity to keep the digital copy that is downloaded for $60. Thankfully they aren't forcing that in the subscription otherwise opportunities for pre-order incentives, promotional credits, and the ability to resell would be lost.
•Discounted Downloadable Content
Subscribers will get a 20-percent discount on all available downloadable content for participating EA SPORTS titles. Downloadable content, which enhances and refreshes the core game experience, includes such items as Ultimate Team packs, accelerator packs and gear upgrades.
The biggest miss from what was originally rumored to be part of the official subscription is the ability to carry over DLC purchased from one year to the next. This would have been huge for titles like Tiger Woods (which sells extra courses – $50 for all) or those with Ultimate Team mode (where consumers lose everything and start over). Having that would have made the 'Season Ticket' much more valuable.
The 20% off should be considered no more than a bonus to the three day window which will be the reason why consumers are interested in the package. In order to break even on the $25 one would need to spend $125 in DLC – more for there to be any 'savings' due to the subscription. Unless an individual is one of those cited to be spending hundreds or thousands on Ultimate Team the discount is inconsequential.
•Free Premium Web Content
Premium web content extends the game experience beyond the console to a web browser. All participating titles will feature premium web content that will be free to EA SPORTS Season Ticket members beginning with the premium Creation Center packs for FIFA Soccer 12. These packs provide a deeper set of customization tools and abilities within Creation Center to build your own teams and tournaments, and will be available to the consumer until the membership to the program has expired.
Don't put much stock into this. Maybe something worthwhile comes out of it or maybe not. The same promise of premium content was made when the 'Online Pass' was announced. In fact the 'Online Pass' page of EA's website still claims it as a feature despite it never being fulfilled:
•"In addition to Online Team Play, Live Tournaments and other modes and features, we expect every product will include additional content as part of its Online Pass. Access to bonus content is included in the purchase of an Online Pass for a particular product. Our goal is to provide value to consumers, and this is one piece of that philosophy."
•Membership Recognition
Subscribers are easily identifiable with an exclusive membership recognition badge displayed both in-game and on their EASPORTS.com profile.
There can't be anyone out there who would care about this? I'm surprised they are promoting it as though it represents a fourth of the package. I'm sure there will be many who would prefer not being branded as someone who paid the $25.
There was a great deal of discussion on Twitter regarding the annual window and according to EA Sports the subscription is active for 365 days. It is possible that by timing things right consumers could squeeze in six releases to that window.
According to an EA representative if an extra release falls into the 365 days then the benefits will in fact apply. So it's now documented that the program does not lock at five releases. If not the case then EA Sports is being intentionally misleading and should have framed the package in a clear and concise way by stating it only includes five consecutive releases.
So – if you choose to purchase the 'Season Ticket' – the time to do so is the afternoon of August 26th. The Madden NFL 12 digital download will be made available on Friday August 26th at 6pm ET. Buying the 'Season Ticket' at that time will mean an opportunity to sneak in Madden NFL 13 under the 365 days. Madden 13 is tentatively scheduled to come out on August 28th 2012. 365 days from 8/26/11 means expiration will happen on 8/25/12. The download for Madden 13 will be out the evening of 8/24/12.
So there is an opportunity by timing right to get Madden 12, NHL 12, FIFA 12, Tiger 13, NCAA 13, and Madden 13 all for the $25. I wouldn't suggest buying it for that reason alone but it's worth a shot since there is no reason to secure the 'Season Ticket' prior to the 26th anyway.
For those who want to play the games three days early there will be no convincing that the 'Season Ticket' is a bad deal. Ultimately everyone will make the decision on what that access is worth. Take a look at the package, avoid the hyperbole being spewed by EA Sports, and make the decision based on the facts and personal value of what's being offered. While I wouldn't recommend purchase of the 'Season Ticket' those who choose to pay for it shouldn't be faulted for that decision either.