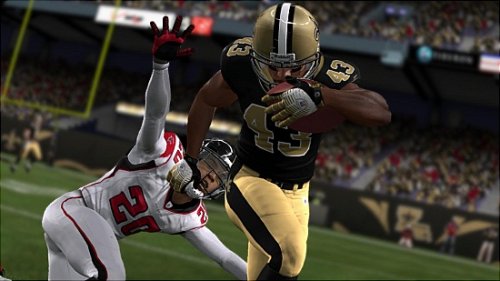 It has now been nearly two weeks since the new NFL year opened allowing for signing of free agents, trades, and cuts. As the transactions settle down – with final roster cuts following the preseason likely to account for the next big wave of movement – the picture of which teams came out on top and which are worse off for Madden NFL 12 has become clearer. After analyzing the moves here are the top four 'winners' and 'losers' accompanied by five teams also worthy of recognition be that positive or negative. 
Winners
Final Madden 11 ratings in parentheses
•Philadelphia Eagles
The Eagles were able to trade their backup QB Kevin Kolb (79) for a starting CB and second round pick. Dominique Rodgers-Cromartie (87) isn't coming off a spectacular season but he's only 25 and brings big play ability. Of course the big move was unexpectedly bringing in Nnamdi Asomugha (98) to team with DRC and Asante Samuel. They were also able to sign surprise Pro Bowler Jason Babin (89) who emerged as an explosive pass rusher last season for the Titans and DT Cullen Jenkins (90). That makes only weakness on the team linebacker which can be compensated for in Madden. Bringing in Vince Young (82) as the backup is good security for if/when Michael Vick gets injured considering he can run the offense in a similar fashion. On paper this could be one of the best Madden teams of all-time.
•Seattle Seahawks
Losing Matt Hasselbeck stings as a fan but he has been no better than mediocre in Madden for the past few years. Tarvaris Jackson (72) or Charlie Whitehurst (71) may fare better due to their mobility and arm strength despite the drop in overall rating from Hasselbeck. It is the offensive line though which will see the biggest upgrade over last year after drafting two immediate starters and signing Robert Gallery (86). That will benefit a downhill runner like Marshawn Lynch. Picking up Sidney Rice (87) was huge and it was a coup grabbing Zach Miller (89). That now gives the team five or more receivers with over 6'4″ height – ideal for the red zone and putting pressure on smaller corners. Re-signing Brandon Mebane (86) was important for the d-line as well. This is a team that really went from being devoid of talent at the same time last year to having a potentially dynamic offense.
•Carolina Panthers
The Panthers have decided to spend lots of money and that extends even to a kicker. More importantly they are keeping their best players around to build from and that was not expected to happen. They have re-signed Charles Johnson (88), DeAngelo Williams (89), James Anderson (83), Thomas Davis (87), and Jon Beason (98). They overspent on an aging kicker but Olindo Mare (86) is still one of the best in the league. The Panthers also picked up a big receiving target by trading for Bears TE Greg Olsen (86) and only having to give up a third round pick. That will help in the development of Cam Newton.
•New Orleans Saints
A bunch of their own players being free agents and they were able to re-sign many like Lance Moore (80) and Roman Harper (82) but made some clever additions as well. Olin Kreutz (82), Aubrayo Franklin (89), and Darren Sproles were nice signings (80). There is no one move the Saints made that is necessarily huge but all together they got some great value on the market to add to an already top-tier Madden team.
Runners-up: New England Patriots, Atlanta Falcons, Houston Texans, St. Louis Rams, Jacksonville Jaguars
Losers
Final Madden 11 ratings in parentheses
•Oakland Raiders
The Raiders have always been a popular Madden team due to their speedy athletic players but they've lost three of their top four players from last year. They re-signed a few players to big contracts but in being over the cap couldn't do anything to improve the team though they did fill a hole with Kevin Boss (79). Nnamdi Asomugha (98) is gone from their defense which was expected but the offense takes a huge hit as the top two rated players on that side of the ball Zach Miller (89) and Robert Gallery (86) signed with the Seahawks.
•Cincinnati Bengals
They've jettisoned Chad Ochocinco (86) and won't be bringing back Terrell Owens (86). They've lost top CB Johnathan Joseph (88) to the Texans and cut Antwan Odom. They were able to re-sign Cedric Benson (84) and brought in Nate Clements (84) at corner. More importantly though they'll be rolling with rookie QB Andy Dalton (71) who's top receiver A.J. Green is also a rookie while refusing to trade away Carson Palmer (85) . The Bengals could very well end up as the worst team in Madden 12 and potentially the NFL this season.
•Minnesota Vikings
Getting Donovan McNabb (82) to bridge the gap until Christian Ponder takes over makes some sense. He is far from being the McNabb of a few years ago but within Madden will probably remain somewhat overrated and certainly higher than the rookie. The team also nabbed receiver Devin Aromashadu (71) from a division rival. They've lost a dynamic offensive weapon though with Sidney Rice leaving for Seattle and instead of nabbing someone like Braylon Edwards (84) or Malcolm Floyd (83) to try and make up for some of that they ended up with Michael Jenkins (78). Starting left tackle Bryant McKinnie (87) was cut after failing a physical.
•Dallas Cowboys
With the salary cap in place the Cowboys had to make some cuts even just to re-sign a few of their players. They had to spend $8 million a year alone on tackle Doug Free (84). That meant letting go of Marion Barber (76), Roy Williams (81), Leonard Davis (88) and Marc Columbo (77). Underachievers maybe but they had value in Madden. The team didn't have the cap space to make a splash that fans desperately wanted.
Runners up: Baltimore Ravens, Tampa Bay Buccaneers, Miami Dolphins, New York Giants, Cleveland Browns