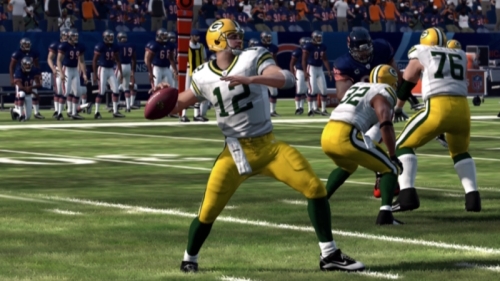 EA Sports is teaming up with ESPN and specifically the SportsNation program again to hold another series of votes – following up campaigns like the Madden NFL 12 cover tournament and the 'traditions' for NCAA Football 12. The latest is being referred to as 'Club 100'.
This time around the vote will center on which players deserve a 100 rating in five specific categories. Five players will win the right to have the 100 rating (one for each category).
•Elusiveness: Charles, Peterson, Woodhead, McCoy, Rice
•Hit Power: R. Lewis, Harrison, Willis, Maualuga, Matthews
•Throw Accuracy: Brady, Manning, Brees, Rodgers, Rivers
•Spectacular Catch: Edwards, Lloyd, Fitzgerald, Calvin Johnson, D. Bryant
•Speed: Chris Johnson, D. Jackson, Charles, Hester, Ford
The players will receive the 100 rating in the roster update that coincides with the start of the NFL season – not the release day update which will be out well in advance of the game arriving in stores or being available to download via the 'Season Ticket'. Voting will run August 22-26 with the winners being announced that Friday.