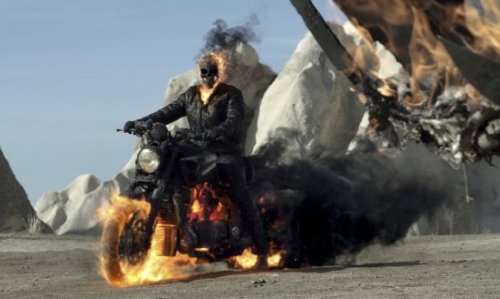 Though not remembered fondly the original Ghost Rider from 2007 grossed $115 million domestically and totaled $228 million worldwide. It was still a questionable decision to go forward on a sequel but by snagging directing duo Mark Neveldine and Brian Taylor (Crank) it was made clear that the project would have a harder edge and certain intensity – which was notably lacking from the first.
Going into Comic-Con I had no expectations for this movie but was very impressed by the presentation and footage shown. Nicolas Cage returns to the lead role and this time actually plays not just Johnny Blaze but also alter-ego Ghost Rider (rather than a stuntman which did so in the first). The film also stars Idris Elba and Ciaran Hinds. Ghost Rider: Spirit of Vengeance is slated to release on February 17th 2012.
Nicolas Cage returns as Johnny Blaze in Columbia Pictures' and Hyde Park Entertainment's Ghost Rider: Spirit of Vengeance. In the successor to the worldwide hit Ghost Rider, Johnny – still struggling with his curse as the devil's bounty hunter – is hiding out in a remote part of Eastern Europe when he is recruited by a secret sect of the church to save a young boy (Fergus Riordan) from the devil (Ciaran Hinds). At first, Johnny is reluctant to embrace the power of the Ghost Rider, but it is the only way to protect the boy – and possibly rid himself of his curse forever. Directed by Mark Neveldine and Brian Taylor. Screenplay by Scott M. Gimple & Seth Hoffman and David S. Goyer. Story by David S. Goyer. Based on the Marvel Comic.