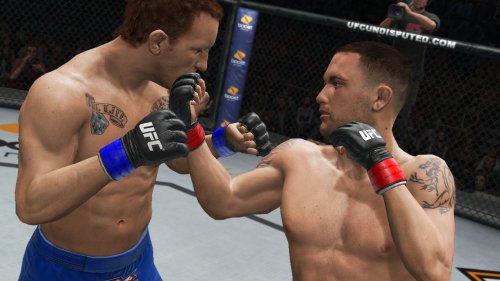 Some companies are offering pre-order deals that stretch across any number of retailers while others have chosen to go the exclusive route and give unique DLC to a particular one. In the case of THQ and UFC Undisputed 3 it appears they have chosen to hamper consumer choice by giving exclusive fighters to just one retailer.
GameStop has posted their exclusive pre-order deal for UFC Undisputed 3 which will include four high profile fighters that will be making their series debut: Nick Diaz, Phil Davis, Jason Miller, and Brian Stann. The description specifically states they will provide the "exclusive access" to those fighters. Meanwhile Amazon and Walmart have continued with their own strategy of offering promotional credits  – $10 worth coming with a UFC 3 purchase. At this time neither are advertising any additional content to come with pre-orders.
So unless something changes it's shaping up to be a choice of paying $60 at GameStop and getting those exclusive fighters or essentially $50 at Amazon/Walmart and going without them. Considering UFC 3 isn't set to release until January though there is plenty of time to sit and wait on whether a better deal will appear or if those fighters will ultimately extend to other outlets.