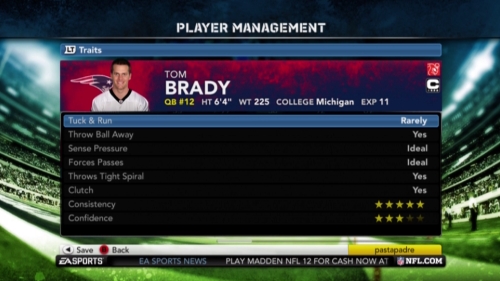 According to EA Sports and Madden NFL 12 there are currently 36 "clutch" players in the league. The new 'Player Traits' this year provide more insight into how individuals are viewed and how they will perform in Madden beyond just their ratings.
As noted in the general impressions EA has done an admirable job in reflecting some personality in the players by going this route. When it comes to "Clutch" while offensive and defensive lineman are omitted from consideration all other positions have the ability to receive it – and in doing so get a ratings boost in certain high pressure situations. 
The following players have received the "Clutch" trait:
•QB: Tom Brady, Aaron Rodgers, Peyton Manning, Philip Rivers, Drew Brees, Ben Roethlisberger, Eli Manning, Josh Freeman
•RB: Maurice Jones-Drew, Peyton Hillis, Marshawn Lynch
•WR/TE: Antonio Gates, Andre Johnson, Larry Fitzgerald, Reggie Wayne, Dallas Clark, Wes Welker, Santonio Holmes, Anquan Boldin
•LB: Patrick Willis, DeMarcus Ware, James Harrison, Clay Matthews, Ray Lewis, Brian Urlacher
•CB/S: Darrelle Revis, Nnamdi Asomugha, Troy Polamalu, Ed Reed, Champ Bailey, Asante Samuel, Charles Woodson, Tracy Porter
•K: Ryan Longwell, Rob Bironas, Adam Vinatieri
So it looks like "Clutch" has gone to the many elite individuals plus those who are most remembered for making a single monumental play (E. Manning, Porter, Lynch). It remains unclear if there are any plans to update the player 'Traits' or 'Roles' along with the ratings changes in the new rosters that are delivered over the course of the season.
Are all those players deserving of having received the "Clutch" designation and what others should have been considered to be amongst the group? Leave your thoughts in the comments!