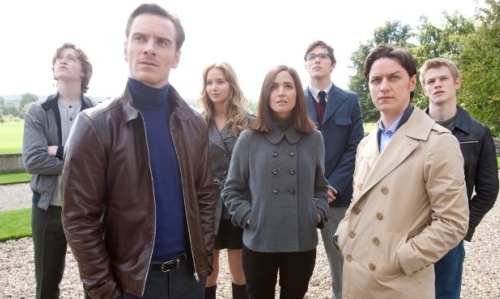 This week of DVD and Blu-ray releases brings one of the best films of the summer in X-Men: First Class. There are also a couple of the best comedies on TV and one of the best dramas with Community, The Office and Fringe. I can confidently recommend all of those as potential purchases. Top to bottom a very strong group of options this week. 
•X-Men: First Class (Buy at Amazon: DVD or Blu-ray)
In 1962, the United States government enlists the help of Mutants with superhuman abilities to stop a malicious dictator who is determined to start world war III. Stars James McAvoy and Michael Fassbender. (Note: Friday September 9th release)
•Hanna (Buy at Amazon: DVD or Blu-ray)
A 16-year-old who was raised by her father to be the perfect assassin is dispatched on a mission across Europe, tracked by a ruthless intelligence agent and her operatives. Stars Cate Blanchett and Eric Bana.
•Everything Must Go (Buy at Amazon: DVD or Blu-ray)
When an alcoholic relapses, causing him to lose his wife and his job, he holds a yard sale on his front lawn in an attempt to start over. A new neighbor might be the key to his return to form. Stars Will Ferrell.
•Fringe: Season Three (Buy at Amazon: DVD or Blu-ray)
Immersive. Compelling. Hypnotic. Brilliantly imaginative. Endlessly thrilling. Pick your term. The mystery of the universes deepens in the critically acclaimed 22-episode third season of television's most exciting sci-fi. The Fringe team escapes from the parallel universe – except for Olivia, trapped in the other world and replaced in ours by her double, who turns Peter and Olivia's tentative relationship into a love affair. Then Olivia returns, bonds of trust fray, ever more bizarre and terrifying phenomena occur and secrets that stretch back to 1985 threaten to destroy our universe. Or theirs.
•The Office: Season Seven (Buy at Amazon: DVD or Blu-ray)
In the seventh season of this Primetime Emmy® Award-winning series inappropriate behavior is business as usual but big surprises are in store! Dwight is now the owner of the building and he may be letting this power go to his head; Andy is courting Erin who is dating Gabe; Jim and Pam are struggling with being new parents; and a parade of ghosts of girlfriends past haunt Michael leading to his final days at Dunder Mifflin. Catch the antics of all 24 laugh-out-loud Season Seven episodes of"…TV's funniest half-hour" (Rick Kissell Variety) developed for American television by Primetime Emmy® Award Winner Greg Daniels. This memorable season features guest appearances from Amy Ryan (Gone Baby Gone) a cameo from Ricky Gervais (The Invention of Lying) and an unforgettable hour-long season finale with Jim Carrey (Bruce Almighty) Will Arnett (Arrested Development) Ray Romano (Everybody Love Raymond) James Spader (Boston Legal) and Catherine Tate (Doctor Who) all vying for Michael Scott's old post. Plus see hours of bonus features including extended episodes deleted scenes bloopers webisodes and more in this must-own four-disc collection.
•Community: Season Two (Buy DVD at Amazon)
Welcome back for a wild new year at Greendale Community College, as the study group faces their toughest tests yet… Why would bachelor-for-life Jeff Winger (Joel McHale) pop the big question to Britta (Gillian Jacobs)? What incites innocent Annie (Alison Brie) to chloroform a janitor? Hey, Pierce (Chevy Chase)! Is your mom really still alive in a lava lamp? Will Abed (Danny Pudi) miss his Pulp Fiction birthday for a chance to give Jeff his own version of My Dinner With Andre? What makes Troy (Donald Glover) boldly go for LeVar Burton? Shirley (Yvette Nicole Brown) is expecting – but who's the daddy? Is it her ex-hubby (guest star Malcolm-Jamal Warner)? Or ex-Spanish teacher, Senior Chang (Ken Jeong)? Finally, is that really Betty White rapping with Troy and Abed? All these answers (and much more) are found in the hilarious, guest star-filled sophomore season of the breakthrough comedy hit.
•Parks and Recreation: Season Three (Buy DVD at Amazon)
Dedicated government employee Leslie Knope (Amy Poehler) and her fellow colleagues return for big laughs from the small town of Pawnee Indiana in the hilarious third season of Parks and Recreation. Their funny antics continue as they ramp up for their most important civic project yet: The Harvest Festival. As Leslie plans prepares and publicizes her co-workers take on other challenges such as a crippling flu the statewide softball tournament and the sad demise of a local icon: a miniature house named Li'l Sebastian.
•Scarface (Buy Blu-ray at Amazon)
In 1980 Miami, a determined Cuban immigrant takes over a drug empire while succumbing to greed. Stars Al Pacino and Michelle Pfeiffer. (1983)