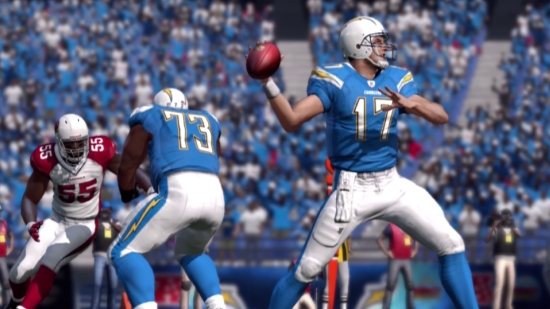 Madden NFL 12 approached release under unique circumstances – a lockout threatening the season, several high level developers departing right in the middle of the development cycle, and the release date being pushed back to the end of August. EA Sports appears to have benefited from the lockout being lifted and the intense excitement for the coming season with the release of the game coming right at the height of anticipation.
The enhancements to Madden 12 were meant to satisfy the long-time fans of the series and those who are dedicated fans of the sport. In that regard Madden NFL 12 absolutely delivers – and it makes for the most enjoyable and satisfying Madden this generation and arguably reaching even farther back into the previous platform era. Continue on for a look at what Madden 12 got right and where it went wrong in this "Hits and Misses" review. 
Make sure to check out the comprehensive articles on each area of the game for additional analysis: Online Impressions – General Impressions – Franchise Impressions – Superstar Impressions – Videos and Screenshots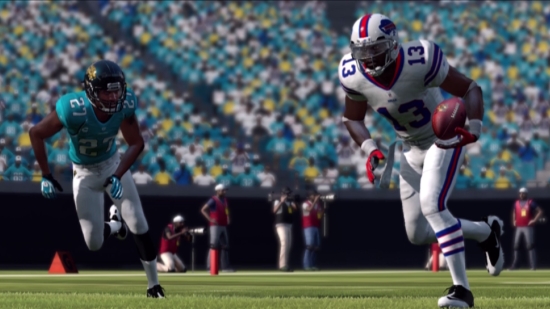 Hits
Presentation
A concerted effort was made with Madden 12 to capture elements of the television viewing experience and the game attending experience and though there is still plenty of work to be done it represents a significant and valuable advancement in presentation. Authentic camera placement, team entrances, blimp shots, crowd cuts, and more were all great touches. Crowd noise is much better than NCAA but there should be more impact to the crowd affecting road teams and roaring louder in appropriate situations (such as after a challenge decision).
Of course there were aspects of the presentation that eroded some of the overall satisfaction. Players bumping into each other on the way back to the huddle, the jarring cut to the two minute warning where then nothing of significance is shown, challenge replays so poorly handled that they don't actually show the event being challenged, a lack of a halftime or post-game show, and sparse crowds in adverse weather conditions stand out. All relatively minor on their own but necessary to clean up for the presentation to reach the next level.
Gameplay
There is no denying that the gameplay improvements received were a large beneficiary of avoiding going the 'gimmicky' route this year. Gameplay is much more satisfying with some legacy issues corrected and the lack of suction paying dividends all over the field. Proper football strategy is rewarded more than ever and the result is some incredibly compelling and competitive games that have provided some brilliantly exciting moments. Fun factor due to all of that is especially high.
GameFlow and GamePlan have been enhanced with the addition of Custom Playbooks – allowing for the benefits of GameFlow to be more likely utilized. Stats are often in line with expectations and the flow of the games have been ideal. "Player Traits" really start to differentiate individual performance styles beyond just ratings. The CPU is finally competent though ultimately the challenge offered by the CPU will vary from person to person. The sliders appear to be effective for those who choose to tinker with the various elements of gameplay.
Dynamic Player Performance is difficult to quantify but does seem to have considerable impact and swing performance and ultimately even on-field results. Hot and cold streaks come into play and often early struggles will carry over to later in the game as players lose confidence. When the main positions are user-controlled though the struggles will stand out more than the successes – as getting a small ratings boost is unlikely to completely change the outcome of a play – just as a small ratings decline probably won't mean a drastic result. There does need to be a way to see what DPP is doing without going into the pause menu.
There is no perfection here though – the lack of a battle for the ball between the receivers and defenders is especially glaring. Play action remains improperly implemented and special teams has been largely neglected with kick and punt return blocking flat out horrible. The new kicking camera and system, and the surprise onside kicks, are the only positives to mention as it pertains to special teams.
Franchise Mode
Though the improvements to Franchise don't necessarily seem to warrant having taken a full year off from the mode they do make a large impact as they capitalize on the areas most requested for receiving advancement. Expanded rosters and cut days, practice mode, trades of future draft picks, draft scouting, and player roles are all intriguing additions.
The biggest success is the new Free Agency bidding system. Though it should be more obvious how to view upcoming free agents before the bidding frenzy begins it makes for a fun and pressure-filled event. "Player Roles" are an interesting element in how teams are shaped along with how they can affect on-field performance.
The weakest aspect is the draft scouting, which simply doesn't provide enough information on enough players to make much (or any) difference. I felt largely in the dark for the majority of the draft as picking at the end of the round meant most of the prospects that had been scouted for the round were gone by my choice. Beyond the scouting then you're left with knowing nothing but their projected round to make a decision on.
A few issues worth noting – a few teams are stuck with rain in every (or nearly every) home game, there is an issue with draft classes from NCAA Football 12 not coming over unless they are saved after the players leaving stage, players lose their "role" if anything about them even equipment is edited, the new free agency system is not good for multi-user franchises, and preseason games are a complete mess.
Online Play
This is the most successful online play experience to come out of the Tiburon studio. Performance has been excellent, the games have been ultra-competitive and very fun, and the Online Communities feature has proven initially valuable.
One unheralded but very important tweak to online comes with the kick meter which appears to account for any lag being experienced. The meter will snap back a tad after the button press and it has proven to be quite accurate. Kicks have been missed not due to any lag but due to user error. It's the first time that kicking in a football game hasn't been problematic online. Lag in general has been minimal – a slight sluggishness in some cases but easily adjust to – and most games have felt so good they could have passed for being played offline.
Online Franchise was passed over for improvements in favor of Communities – a decision that could be easily questioned. There is no lobby room within the communities making head-to-head games difficult to come by for most people. I've had to tweet out that I want a challenge in order to get a game and most won't have that luxury. Though they offer something considerable the sense I get is most will be completely dead within a month. Maybe smaller ones within groups of friends will have more long-term success.
Custom Playbooks and their integration into GameFlow comes in handy for ranked online games. Inexplicably Custom Playbooks were omitted from use in the Online Communities and Online Franchise. There has also been an issue faced by a small percentage of users who have been unable to get past the "Checking Rosters" step. EA is still investigating but a temporary workaround is to save the latest rosters to a USB drive and the game will recognize that and proceed past the problematic step.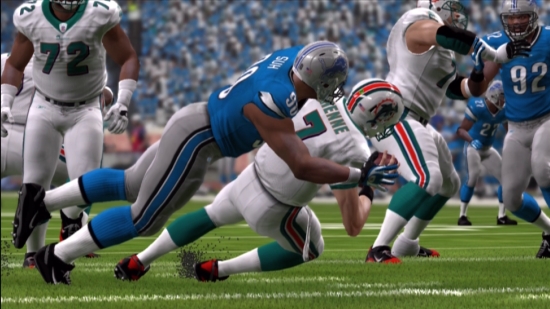 Misses
Commentary
Taking the most flak this year is the commentary and it isn't completely unwarranted. Though there is a decent flow that is about the best that can be said, and it is certainly a big drawback overall on the complete package that Madden 12 attempts to offer given the number of errors called out and noticeable recording flaws.
Lines recorded last year vs this year sound completely different, reactions often run far behind when they actually take place, the same stories are repeated every game, and the announcers often call a player by their number rather than their name. There are also unjustifiable gaffes like referring to the Titans as the "New York Titans" at every coin toss or talking about the "new" overtime rules in a regular season game where they don't even apply.
The lack of special commentary for preseason and postseason games really hurt their immersive nature. There is no special Super Bowl commentary – in fact the announcers will talk about homefield advantage. That sort of thing is just killer.
Superstar Mode
This mode wasn't a main focus and it shows. Touted improvements were an improved interface, skill points to distribute for ratings increases, coordinator audio, and a switch to the standard camera angle. Most of those things actually were provided but did little to make the mode interesting. Coordinator audio and commentary was completely absent however.
Players automatically start at their respective position regardless of ratings and there is nothing that goes on in the off-season. The mode is just flat out dull. It also isn't readily apparent that quarter length can be adjusted – that is done through the main profile and not within the mode.
NFL fans will appreciate what has been done with Madden NFL 12 as the title attempts to tap into what it means to be emotionally invested in a team or the league. The vastly improved presentation and gameplay combined with a much more enjoyable Franchise mode help to cover up the flaws that comes with growth that can't be completed and goals that can't be reached in just a single year. It's finally alright to be excited about the Madden franchise – that is if they don't change course in their vision yet again.