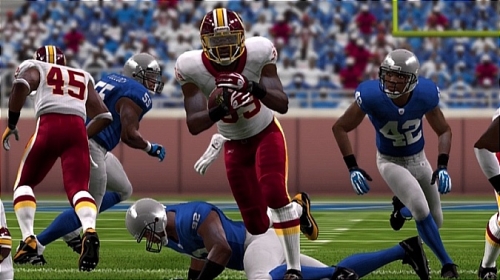 Sales of the Madden NFL franchise continue to climb – along with its digital revenues. Madden NFL 12's opening week displayed a sales increase of 10% over Madden 11 and in doing so is now showing consistent growth as it's tracking 19% over Madden 10's early haul. In the digital arena revenue is up 78% due in large part to Madden Ultimate Team mode as more than 200K card packs have already been purchased. 
The lead-up to release of Madden NFL 12 faced troubles such as the league lockout and departure of several high level developers and executives mid-development cycle while deciding to push back the release date by three weeks. However the end of the lockout created an unprecedented level of excitement for the NFL season and that seemed to bleed over to anything associated with the league. Madden 12 trended on Twitter on its release day – a feat that Madden 11 never achieved.
The later release date, which landed near the end of the pre-season, has proven to be a smart move. Not only were fans more excited for Madden as the regular season neared but that extra time from the release of NCAA Football 12 seems to have benefited both franchises. NCAA was up 15% in its first month of sales and the gap allowed a more reasonable opportunity for fans to purchase both games or tire of NCAA in time to trade it in towards Madden.
Anticipation for Madden 12 was especially high in the days nearing release and the "Season Ticket" – which offered the chance to play it three days early – may have helped. According to EA Sports four million gameplay minutes were spent playing during the three day period. More than that though it helped to spread largely positive word of mouth which may have assisted in the initial sales rush.
Again these sports titles are seeing improved early numbers also in part due to the incentive to buy new and do so on release day. Amazon and Walmart offered $20 promotional credits with pre-orders. It won't be until November that Madden 12 can be purchased for less than what amounts to $40. The 'Online Pass' also factors in making the wait for used copies less viable as an option. One would have to procure a used copy for under $30 in order to match the deal offered by Amazon/Walmart – and that doesn't even account for the time cost of waiting rather than having it on release day.
My projections place Madden 12 bringing in 2 million in sales in it's first "month" – compared to 1.8 million for Madden 11 and 1.6 million for Madden 10. With the way NPD sets up for official sales numbers though Madden 12 will rise well above the 2 million mark making the comparisons tougher to analyze outside of these initial percentages. With the new release date all of the sales from its first five weeks will fall in September's reporting compared to the 3+ weeks that generally made up August's numbers in the past.
Despite reviews being down the actual word of mouth for Madden 12 has been positive and that bodes well for sales in the coming weeks and months. WOM will largely drive results going forward – which was shown in the past as the numbers held stronger for Madden 10 than Madden 11 through the holidays. Regardless the early sales numbers are encouraging and hopefully a message to EA that focusing on the right areas of the game rather than introducing gimmicks will be rewarded and begin to rebuild credibility.