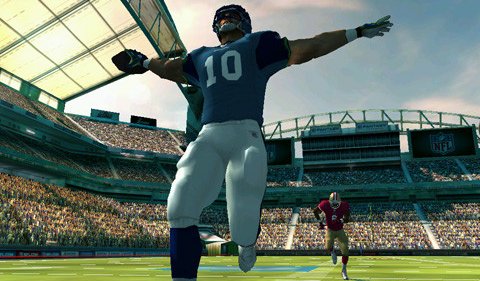 From NaturalMotion – the developers behind Backbreaker and Icebreaker – comes NFL Rivals on the iPhone, iPod touch, and iPad for $2.99. With licensed NFL teams (not players or stadiums) and league branding it acts essentially as an update to Backbreaker 2: Vengeance. Players have been skinned in the NFL uniforms and a social leaderboard has been added to track pooled progress during the season as performing for certain teams against that week's actual opponent will help to move them up the ranks.
The exclusive NFL license has never applied to mobile or social platforms – which is why Gameloft was able to release NFL 2010 and NFL 2011 for mobile devices and go head-to-head with Madden NFL in that arena. In Rivals each team will just have their home uniforms, and given that the screenshots released feature the Seahawks with a combination they don't actually wear that isn't exactly encouraging. Only the first 10 games of the NFL schedule is included.
For those who didn't buy the mobile version of Backbreaker 2: Vengeance then NFL Rivals is probably going to be an easy purchase recommendation – and we'll have a review on it in the coming days. Otherwise adding NFL jerseys isn't going to make the collection of 'Tackle Alley' mini-games all that more compelling on its own, the social element doesn't appear to offer much intrigue, and it's going for $2 more than Vengeance. NFL Rivals can be found on iTunes for the iPhone, iPod touch, and iPad and is said to be coming soon for Android.