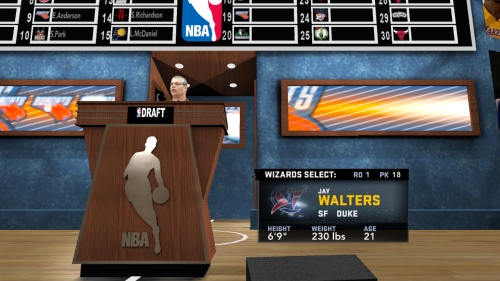 Though the big story has been the revelation that NBA 2K12 will not include incoming rookies 2K Sports has closed the week by releasing extensive details on the My Player career mode which may help to soothe over some of the frustration of that situation. Of course not having rookies means entering My Player alongside generated characters so that'll even have an impact here too – however there are several new additions that will attempt to make for a more compelling experience.
My Player will feature expanded off-the-court presentation with events such as team interviews, mock draft, NBA Draft featuring commissioner David Stern, and the Hall of Fame induction. Contracts come into play as they "money" earned can be spent on improving attributes and obtaining signature animations. Structure wise there will be a single game played to help determine draft status, and there is no "sim" option to run through a season. Instead the optional "Play Next Key Game" feature will be the way around that as it will present only the most critical match-ups over the course of the season to play while skipping over the others.
Check out the full developer blog posting for a complete break down of what to expect in My Player mode this year – and as always leave your thoughts in the comments!