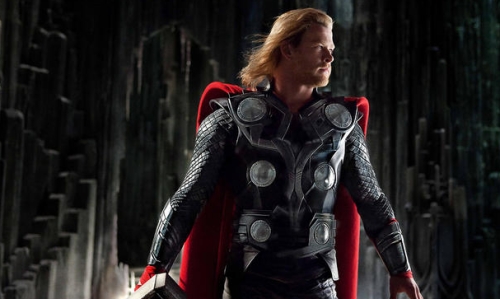 It's a highly anticipated week of releases as Star Wars finally makes it to Blu-ray alongside one of the hits of the summer movie season Thor. There are also a number of television seasons for series with devoted fan bases. My top recommendation of the group is Spartacus: Gods of the Arena (though I'd suggest watching Spartacus: Blood and Sand first as the prequel holds more impact that way).

•Thor (Buy at Amazon: DVD or Blu-ray/DVD Combo)
The powerful but arrogant warrior Thor is cast out of the fantastic realm of Asgard and sent to live amongst humans on Earth, where he soon becomes one of their finest defenders. Stars Chris Hemsworth and Natalie Portman.
•Star Wars: The Complete Saga (Buy on Blu-ray at Amazon)
Star Wars: The Complete Blu-ray Saga will feature all six live-action Star Wars feature films utilizing the highest possible picture and audio presentation. ***Can also be purchased as separate trilogies: Original and Prequels***
•Spartacus: Gods of the Arena (Buy at Amazon: DVD or Blu-ray)
The House of Batiatus has towered above the city of Capua for many years. Spartacus: Gods of the Arena will explore its deadly history before the arrival of Spartacus, and the death he carried with him. Loyalties will be tested, lives shattered, and battles waged in this thrilling prequel to Spartacus: Blood and Sand.
•Glee: Season Two (Buy at Amazon: DVD or Blu-ray)
Despite their loss at the Regionals the kids in New Directions are more motivated than ever. And whether it's Will doing a sexy tango with a substitute teacher (Gwyneth Paltrow) Sue joining the glee club or everyone catching Bieber fever the excitement at William McKinley High School is keeping everyone on their toes. With more incredible musical numbers hugely popular guest stars like John Stamos Carol Burnett and Kristin Chenowith and lots of behind-the-scenes special features Glee Season 2 hits all the right notes.
•Supernatural: Season Six (Buy at Amazon: DVD or Blu-ray)
The prize: ending the Apocalypse. The price: Sam's life. Season 5's horrific finale left Dean alone, as Sam descended into Hell. Now a different man, Dean vows to stop hunting and devote himself to building a family with Lisa and her son Ben. Then, mysteriously, Sam reappears, drawing Dean back into the old life. But Sam's a different man too. He's returned without his soul. How the Winchesters confront this greatest challenge yet to their powerful bond is the troubled heart – and soul – of the profound and thrilling 5-Disc, 22-Episode Season 6. As the brothers struggle to reunite, they must also battle deadly supernatural forces. Demons. Angels. Vampires. Shapeshifters. And a terrifying new foe called the Mother of All.
•Grey's Anatomy: Season Seven (Buy DVD at Amazon)
It's a year of new beginnings for the medical team of Seattle Grace Hospital as they slowly recover from the tragedy that hit too close to home. New relationships emerge and the strongest commitments are tested in this moving 6-disc set. From successes in the operating room to mistakes in the bedroom and all the thrilling drama in between the doctors find a way to survive as long as they lean on one another.
•It's Always Sunny in Philadelphia: Season Six (Buy DVD at Amazon)
On the sixth season of It's Always Sunny in Philadelphia, the gang of five reprehensible sociopaths engaged in their typically awful behavior with very few repercussions. The hilariously selfish acts from Dennis (Glenn Howerton), Mac (Rob McElhenney), Charlie (Charlie Day), Dee (Kaitlin Olson) and Frank (Danny DeVito) included a pregnancy for Dee (to incorporate actress Kaitlin Olson's real-life pregnancy), marriage and divorce for Dennis and a stint as a janitor for Charlie.