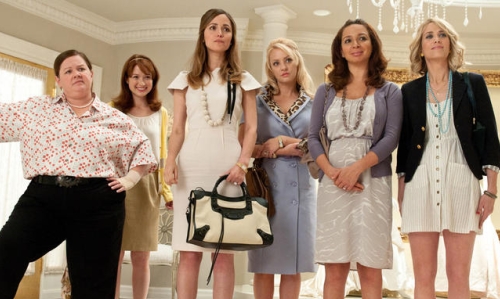 One of the surprise break-out hits of the summer, the comedy Bridesmaids, leads the way this week in DVD/Blu-ray releases – along with a special 70th Anniversary Edition of the Disney Classic Dumbo. There are also some decent TV series to consider with comedy favorites Raising Hope and Modern Family topping the list.
•Bridesmaids (Buy at Amazon: DVD or Blu-ray/DVD Combo)
Picked as her best friend's maid of honor, lovelorn and broke Annie looks to bluff her way through the expensive and bizarre rituals with an oddball group of bridesmaids. Stars Kristen Wiig and Maya Rudolph.
•Set Up (Buy at Amazon: DVD or Blu-ray)
A group of friends plan out a detailed heist that turns deadly when one betrays the other by taking off with the goods. Taking matters into his own hands, Sonny seeks out his revenge teaming up with the most dangerous mob boss in town to get back what is rightfully his. When he finally comes face to face with his longtime friend he will be forced to make a life changing choice. Stars Bruce Willis, Ryan Phillippe, 50 Cent.
•The Kennedys (Buy at Amazon: DVD or Blu-ray)
Inspired by one of the world's most iconic families, this eight-part scripted drama/miniseries ventures upstairs at the White House to chronicle the saga of America's first royal family during the 1960s.

•Raising Hope: Season One (Buy DVD at Amazon)
A hilarious and endearing comedy about the joys – and pains – of parenthood and a dysfunctional family. A one night stand becomes a life-long commitment when twenty-three-year-old Jimmy Chance inadvertently impregnates a wanted felon and decides to raise Hope (aka Princess Beyonce) on his own. Jimmy, together with his family, face play dates, family photo shoots, rock star dreams, vasectomies and more in the uproariously irreverent, critically acclaimed first season of Raising Hope.
•Modern Family: Season Two (Buy at Amazon: DVD or Blu-ray)
Modern Family is a refreshingly hilarious look at what it means to be a family in today's hectic unpredictable world. While fledgling fathers Cameron and Mitchell struggle with learning the ropes of parenthood long-time parents Claire and Phil try to keep the spice in their marriage amid the chaos of raising three challenging children. Meanwhile family patriarch Jay has more than his hands full with his sexy spirited wife Gloria and her precocious son. Still no matter the size shape or situation family always comes first in this laugh-out-loud critically acclaimed hit.
•Hawaii Five-0: Season One (Buy DVD at Amazon)
Steve McGarrett returns home to Oahu, in order to find his father's killer. The governor offers him the chance to run his own task force (Five-O). Steve's team is joined by Chin Ho Kelly, Danny "Danno" Williams and Kono Kalakaua.
•Spooky Buddies (Buy at Amazon: DVD or Blu-ray/DVD Combo)
Disney's irresistible talking puppies are back in an all-new movie that takes them far across town to a mysterious mansion where something very spooky is going on. With the help of some unexpected new friends including a friendly ghost this exciting adventure is howling-good Buddy fun. In a race against a no good hound, the Buddies and their new friends, Pip, Zelda, Rodney, and Skip, must stop Warwick the Warlock and save the world from his dastardly deeds. Overflowing with action, humor, and a bag full of bonus features, Spooky Buddies is a Spooktacular adventure that treats you to a celebration of friendship and teamwork your whole family will enjoy.
•Dumbo 70th Anniversary Edition (Buy Blu-ray/DVD Combo at Amazon)
For the first time ever, in celebration of this landmark film's 70th anniversary, experience the daring adventures of the world's only flying elephant with a dazzling all-new digital restoration and brilliant Disney enhanced high definition theatre mix sound. The inspirational tale of Dumbo, the courageous baby elephant who uses his sensational ears to soar to fame with the help of his clever best friend Timothy Q. Mouse, will thrill and delight audiences of all ages. And now, the award-winning music and empowering messages about friendship and belief in yourself reach new heights in this must-have Blu-ray high-definition presentation of Walt Disney s animated classic Dumbo!