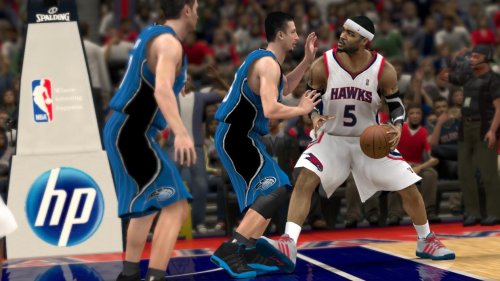 Early in the week a poll went up with the intention to get a clearer picture of how consumers are viewing NBA 2K12 in light of the league lockout. As release has neared the realization of the impact on the product has started to settle in, as it will not have the typical refresh of rosters or even introduce rookies while well-regarded features such as NBA Today are negated. Despite that the NBA 2K series comes off a remarkable year in which it entered the upper-echelon of sports titles by reaching a cultural status exceeded by few others. What the poll shows is a distinct split caused by the lockout.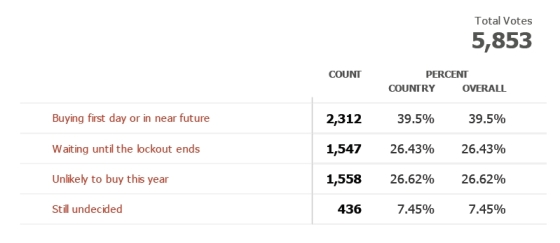 First, looking at the group that doesn't expect to buy 2K12, some of those certainly are people who may have not have been potential sales anyway. It can't be completely dismissed however. Some of the voters there may have been potential buyers for 2K12 and for one reason or another don't feel it is necessary to do so. The number to really hone in on though are those waiting for the lockout to end.
It is a significant group – 26% which plans to wait for the end of the lockout which looks to be a long ways off if the season is to happen at all. Those are sales that are lost at least initially.
Industry analysts are predicting a sales drop of 50% but I still believe that number is a bit inflated and expect something more in the range of 35-40%. Keep in mind that even a 50% drop would just take the numbers back to NBA 2K10 levels – not a disaster by any means just not the juggernaut NBA 2K11 was.
EA Sports was expecting to lose up to $80 million if the NFL lockout had extended into the season. That is why the NFL gave them a discount of $30 million this year on the exclusive license in exchange for extending it an additional year. According to analysts 2K Sports could expect to lose $40 million if the lockout ends up continuing for an extended period of time. The effects of the lockout are real – it is just more difficult to pinpoint how it will all play out as the circumstances could change at any point in the future.
The poll results support that way of thinking. There is a large dedicated fan base for NBA 2K12, but NBA 2K11 secured a number of buyers either new to the franchise or simply intrigued by the inclusion of Michael Jordan. Those consumers are more likely to not feel the need to buy again a year later – especially given the lack of an NBA season around the corner to drive interest. Sales were expected to be down some even if there had been no lockout but it will magnify that number greatly. The "perfect storm" of last year was never going to be replicated.
There is little question that NBA 2K12 will be an excellent game. 2K Sports planned ahead well and positioned 2K12 to survive a potential lockout as best as possible. The focus on legends and historic teams was smart. Still that doesn't prevent consumers from judging the total package and maybe not seeing the value deemed necessary to make a purchase. The excitement over the coming season and along with it new rosters are what drives many to make year-to-year purchases of sports titles. What can be expected is that if/when the lockout ends 2K12 will get a sales bump come that time – there is less urgency to grab a copy right away and due to that many who are content waiting for that moment instead to jump in.