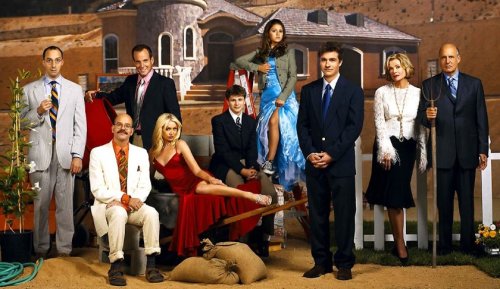 Cult-favorite television series Arrested Development has gone through a number of rumors and apparent stages of development for a potential movie ever since it was cancelled in 2006. A proper script had to be completed and the logistics of getting the whole original cast back together was daunting. Still the movie looked to be inevitable and as of late was said to be on the right track.
Surprising news today though comes as series creator Mitch Hurwitz revealed at the New Yorker Festival featuring a cast reunion that Arrested Development will be returning for a 9-10 episode season before culminating in the off-discussed movie. Jason Bateman followed up by confirming it on Twitter and added that they will likely be shot next summer and air/release in 2013.
Arrested Development ran for three seasons (53 episodes) on Fox before falling prey to its tragically low ratings. The ensemble cast is led by Bateman, Will Arnett, and Michael Cera. The TV episodes will reintroduce the characters as they are found "now" (years later) to provide the context for the film.