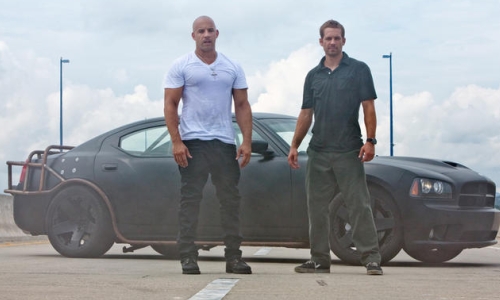 It's a top heavy week of releases as Fast Five, which has raked in over $600 million worldwide, arrives along with a slight box office disappointment in Scream 4. Beyond that I would highly recommend picking up Friday Night Lights – which finished it's brilliant five season run earlier this year. There are also a number of classics introduced on Blu-ray. 
•Fast Five (Buy at Amazon: DVD or Blu-ray/DVD Combo)
Fugitive Dom Toretto (Vin Diesel) partners with former cop Brian O'Conner (Paul Walker) on the opposite side of the law in exotic Rio de Janeiro, Brazil. There they are hunted by a high-powered US strike force led by their toughest Fed (Dwayne Johnson) and an army of corrupt cops working for a ruthless drug kingpin. To gain their freedom and win this ultimate high-stakes race, they must pull off one last job — an insane heist worth $100 million.
•Scream 4 (Buy at Amazon: DVD or Blu-ray)
In Scream 4, Sidney Prescott, now the author of a self-help book, returns home to Woodsboro on the last stop of her book tour. There she reconnects with Sheriff Dewey and Gale, who are now married, as well as her cousin Jill (played by Emma Roberts) and her Aunt Kate (Mary McDonnell). Unfortunately Sidney's appearance also brings about the return of Ghost Face, putting Sidney, Gale, and Dewey, along with Jill, her friends, and the whole town of Woodsboro in danger.
•Friday Night Lights: The Complete Series (Buy DVD at Amazon)
The trials and tribulations of small town Texas football players, their friends, family, and coaching staff. Winner of Emmys for best writing and actor in a drama.
•The Lion King: Diamond Edition (Buy Blu-ray/DVD Combo at Amazon)
For the first time ever experience the majesty of Disney's epic animated masterpiece as it roars off the screen and into your living room on Blu-ray and Blu-ray 3D. With a spectacular digital picture, spine-tingling high definition sound and immersive bonus features—you will feel the love for this critically acclaimed and universally beloved classic like never before. Embark on an extraordinary coming-of-age adventure as Simba, a lion cub who cannot wait to be king, searches for his destiny in the great "Circle of Life." (1994)
•Jackie Brown (Buy Blu-ray at Amazon)
A female flight attendant becomes a key figure in a plot between the police and an arms dealer. Directed by Quentin Tarantino and starring Pam Grier, Samuel L. Jackson, Robert Forester, Bridgette Fonda, Michael Keaton, and Robert De Niro. (1997).
•Pulp Fiction (Buy Blu-ray at Amazon)
Quentin Tarantino delivers an unforgettable cast of characters – including a pair of low-rent hit men (John Travolta and Samuel L. Jackson), their boss's sexy wife (Uma Thurman) and a desperate prizefighter (Bruce Willis) – in a wildly entertaining and exhilarating blend of crime-thriller-drama-comedy that is completely original and entirely unforgettable. Nominated for 7 Academy Awards including Best Picture and Best Director. (1994)