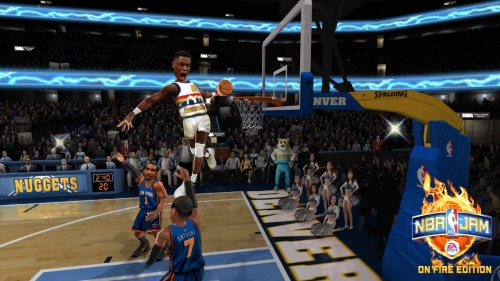 NBA Jam: On Fire Edition releases tomorrow on PSN and Wednesday on XBLA. It does so however with little fanfare – in stark contrast to the excitement levels generated when a reboot of the series was announced last year. It has been a rollercoaster ride ever since that point which considerably eroded the fan base. The download-only sequel will be vastly overshadowed by the release of NBA 2K12 this week. The challenge it really faces though are consumers who feel jilted by a disappointing $50 product last year and the lack of post-release support that followed. 
EA Sports has had mild successes with digital download offerings as 3 on 3 NHL Arcade and Madden NFL Arcade have performed relatively well. Here NBA Jam: On Fire Edition arrives packed full of content and for just $15 yet it has not been able to reach considerable anticipation levels despite offering more for much less.
The problem with On Fire Edition is the level of discontent towards the series following how poorly handled NBA Jam was last year. EA is essentially asking consumers to buy the game again – only this time it will have the features and post-release support they expected last year.
NBA Jam lacked features such as 'Tag Mode' or 'Team Fire' and rosters were never updated. There were also several flawed elements of gameplay and poor AI. On Fire Edition touts these things as additions and being improved upon. Ironically with the NBA lockout roster updates may end up being irrelevant this time around. Instead a number of unlockable teams offer the added appeal (Sonics, badgers, SSX, NBA Street).
Having dropped $50 last year NBA Jam: On Fire Edition is not a product I plan to support by purchasing – and I suspect that will be the case for many. Those who do buy it (at least those that bought last year's) are showing a great amount of loyalty but may be sending the wrong message at the same time.