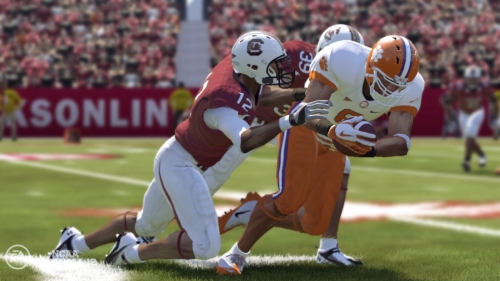 The upcoming patch for NCAA Football 12, which last week was confirmed to have reached first party certification with Microsoft and Sony, has been approved and is scheduled to be pushed out on Friday October 7th for both systems. With it comes a fix to the issue with no-huddle that was introduced in the first major patch. Essentially only one set of plays from each formation were available to select from affecting both the offense and their ability to make calls on the fly and limiting the options for the defense – arguably where it may have been the most damaging though hampering the flexibility for both sides significantly.
The patch is said to have been "rushed out" and because of that includes nothing more than the no-huddle fix. No indication given whether this signifies the end to post-release support for NCAA 12 however stating that this patch was rushed could imply that other fixes would have been included if not under time constraints – or it could also signify a patch that had not been planned but had to be completed due to having created a problem with the last one.
Regardless it's been a rocky ride and maybe now NCAA 12 has stabilized but it comes at the cost of the first three months of release. News on Madden NFL 12's first patch is expected to come sometime later this week.