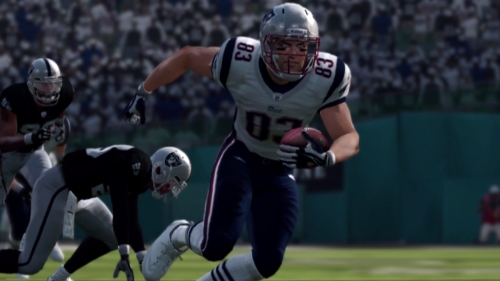 Just like that a quarter of the NFL season is in the books. Generally this is the point in a season where players and teams can be identified as being on new planes of consideration – guys who have seen their stock has rise or fall are on more than just streaks and instead more likely displaying their new level of output.
The big name to watch in the upcoming roster update for Madden NFL 12 is Calvin Johnson. "Megatron" has made the deciding play in the last two comeback wins for the Lions. It would be hard to deny him "clutch" trait status now – something agreed upon by EA Sports ratings guru Donny Moore who responded on Twitter that it was a "safe bet". Matt Stafford is approaching the "clutch" label as well but probably will have to come up big in pressure situations a few more times before he reaches that elite club.
Not only is Calvin Johnson creeping up to the 99 overall rating (sits at 95 right now) but an argument for Wes Welker could also be made though he has farther to go (currently 92). He is on pace for 160 catches, over 2400 yards, and 20 TDs – the first two of which would shatter NFL records. He doesn't have the ability to make the same type of plays Calvin Johnson does (due to his physical presence and leaping ability) but is incredibly versatile and difficult for defenses to deal with in his own right.
Other players to look for increases on this week include Stafford, Darren Sproles, Matt Forte, Ryan Torain, Eric Decker, Doug Baldwin, and Jimmy Graham. On the other end of the spectrum in a season where QBs are going stat crazy guys like Kevin Kolb, Tony Romo, Kyle Orton, Joe Flacco, and Mark Sanchez struggled mightily in week four.
The injuries this week haven't produced any trips to the IR yet but there are several that could stretch on for weeks or longer. The biggest name in that group is Andre Johnson. The status of Trent Cole, Jason Peters, James Harrison, Jerod Mayo, Chad Henne, Chris Hope, and Joe Haden will need to be monitored going forward as well.
As always leave your thoughts in the comments on who is deserving of up or downgrades in ratings for this week's Madden NFL 12 roster update!