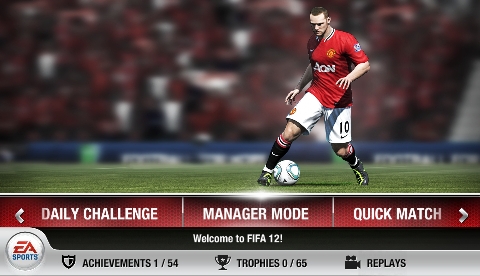 By Brian Sipple
When Manchester United star Wayne Rooney announced this June that he underwent a hair transplant to fix a receding hairline worthy of making LeBron cringe, some fans wondered if he should be more focused on the issues behind his mild 2010-11 season slump. It turns out all he needed was a slight confidence booster. Just 7 games into the Premier League season, Rooney has shown a new found swagger and has racked up 9 goals in Man U's red hot start.
Last year's FIFA 11 for the iOS had some decent selling points, but its controls and feature list failed to deliver on their full potential. In attempted overhaul this year FIFA 12 brings a newly minted control scheme and Manager Mode to the pitch. It just might be the extra boost the series needed to score with fans.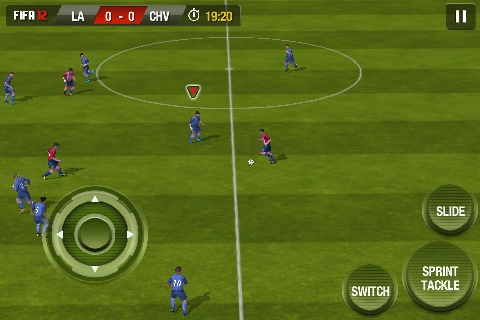 Last year's controls were an incremental improvement but still left much to be desired in terms of responsiveness and command. FIFA 12 has smoothed things out greatly by applying most of the commands to the three right-side buttons. The specific functions of each button change situationaly and can be combined with on screen swipes to perform advanced moves.
One example of these changes is the movement of the sprint function away from the d-pad and on to its own button. This fixes the problem from last year where sprinting would often get in the way of actual movement and dribble control – both of which are more responsive in FIFA 12 as well. On defense it turns into a "sprint tackle" button that charts your player on a path to make a play on the ball.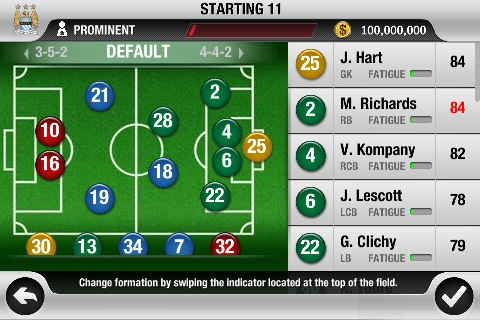 Passing has also been allocated to one button and is cycled between soft passes and through passes by swiping on the screen during the press. This coincides with the artful first touches players in FIFA 12 handle the ball with that can lead to some explosive moments. In the opening minutes of my first game with Manchester City, David Silva lobbed a pass to 15 yard pass to  Sergio Kun Aguero, who was just outside of the penalty box. In one constant motion Kun Aguero plays the ball off his chest, gives it one juggle off his left foot, and then launches a rocket off his right through two defenders. The goalie had no angle on it and the shot would have been good for an equalizer if it hadn't grazed off the woodwork.
The learning curve for the new controls is steep, but it feels this way because you're learning a complex yet coordinated system designed to give the player full control. This is in stark contrast to FIFA 11 where the steep learning curve was merely a testament to how disjointed the system was.
In an effort to add more substance, FIFA 12 brings a Manager mode to this year's game. This immensely deep feature has just everything found on the console mode, including trades, scouting, staff upgrades, financial management, a player development system, and gameday strategies. I can't say that such an abounding mode suits the mobile phone gaming concept perfectly; Angry Birds this is not. However, it's a nice feature to have regardless, and there are enough options to keep you occupied for hours without having to actually play a game.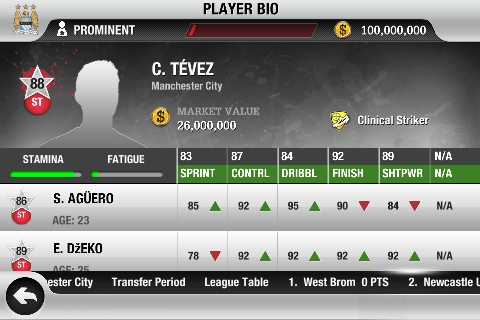 Even with Manger mode though I can't help but feel that there is too much empty space. Essentially the game boils down to Quick Match, Manager, and the new Daily Challenges mode through Origin. For a $5 app there's still a noticeable void left by the omission of multiplayer and the Be a Pro mode that was in FIFA 10.
FIFA 12 touts improved graphics, and indeed many players do bear a stronger facial resemblance to their real-life counterparts. However there isn't much variation to the shape of each player model. The real presentational changes in FIFA 12 shine in the sharp and fluent commentary from Clive Tyldesley, rambunctious crowds, and a menu interface that mirrors the slick layout on consoles.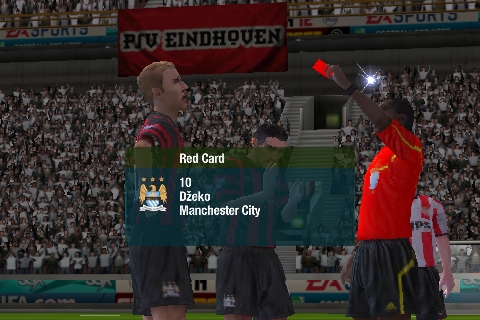 With FIFA 12 the smartly revamped control scheme and addition of Manager mode provides a nice touchup for some areas that had been in disrepair. It's a step in the right direction that, with some key gameplay and presentation tweaks, lead to a true title contender. While it could still improve the level of content it's only a matter of time before FIFA lifts itself to an equal footing with First Touch Soccer atop the mobile gaming tables.
FIFA 12 is now available for the iPhone and iPod touch ($4.99) and iPad ($9.99).