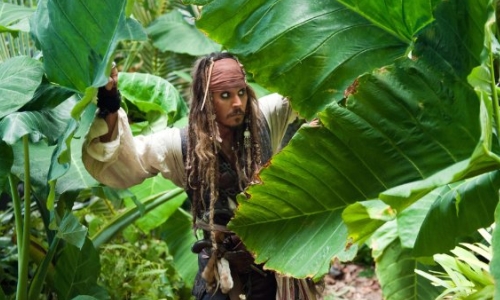 There's a little bit of everything releasing on DVD/Blu-ray this week – headlined by the worldwide smash hit (though less so in the US) with the fourth entry in the Pirates of the Caribbean franchise. There is also the raunchy R rated comedy Bad Teacher, Kevin Smith's uniquely distributed horror film Red State, and the kids/teen focused Monte Carlo. The animated Batman: Year One (which is getting some really good reviews) debuts along with classics The Goonies and The Crow getting their first Blu-ray releases. 
•Pirates of the Caribbean: On Stranger Tides
(Buy at Amazon: DVD or Blu-ray/DVD Combo)
Johnny Depp returns to his iconic role of Captain Jack Sparrow in an action-packed adventure. Crossing paths with the enigmatic Angelica (Penélope Cruz), he's not sure if it's love-or if she's a ruthless con artist who's using him to find the fabled Fountain of Youth. When she forces him aboard the "Queen Anne's Revenge," the ship of the legendary pirate Blackbeard (Ian McShane), Jack finds himself on an unexpected adventure in which he doesn't know whom to fear more: Blackbeard or Angelica, with whom he shares a mysterious past.
•Pirates of the Caribbean – Four Movie Collection (Buy Blu-ray at Amazon)
Set sail with Captain Jack Sparrow for more adventures than ever before with this Pirates of the Caribbean Four-Movie Collection. Inside you'll find an authentic replica Pirate's Chest, a collectible map and an iconic skull disc case that holds the Blu-ray discs and digital copies of all four Pirates of the Caribbean movies. It's a fortune in gold worthy of any swashbuckler – alive or dead.
•Bad Teacher (Buy at Amazon: DVD or Blu-ray/DVD Combo)
Some teachers just don't give an F. For example, there's Elizabeth (Cameron Diaz). She's foul-mouthed, ruthless, and inappropriate. She drinks, she gets high, and she can't wait to marry her meal ticket and get out of her bogus day job. When she's dumped by her fiancé, she sets her plan in motion to win over a rich, handsome substitute (Justin Timberlake) – competing for his affections with an overly energetic colleague, Amy (Lucy Punch). When Elizabeth also finds herself fighting off the advances of a sarcastic, irreverent gym teacher (Jason Segel), the consequences of her wild and outrageous schemes give her students, her coworkers, and even herself an education like no other.
•Monte Carlo (Buy at Amazon: DVD or Blu-ray)
Three graduates fulfill their dreams of vacationing in Paris. They accidentally find themselves in a lavish world, where they live like royalty and experience romance. But at the end of their journey, they discover the true magic of friendship. Stars Selena Gomez.
•Red State (Buy at Amazon: DVD or Blu-ray)
Red State unfolds in a small town dominated by a fundamentalist preacher, Abin Cooper. It tells the story of three high school boys who, on their way to an internet arranged meeting with a woman, end up crossing paths with Cooper. The encounter sets into motion a series of events that causes all hell to break loose. Directed by Kevin Smith.
•Batman: Year One (Buy at Amazon: DVD or Blu-ray/DVD Combo)
Bruce Wayne returns to Gotham City after extensive training in martial arts. James Gordon also arrives in Gotham with his wife Barbara, but begins a flirtatious relationship with co-worker Detective Sarah Essen. Bruce first decides to don the Batman costume and become a vigilante; becoming partners with Lieutenant James Gordon in the process. James Gordon notices the corruption in Gotham City and wants to fix it. Voices of Bryan Cranston, Eliza Dushku, Benjamin McKenzie, Katee Sackhoff.
•Star Wars: The Clone Wars – Season 3 (Buy at Amazon: DVD or Blu-ray)
This TV series takes place immediately after the events of Star Wars-Episode II: Attack of the Clones. The series follows Obi-Wan Kenobi and his apprentice Anakin Skywalker and introduces us to some new characters such as Ahsoka Tano a girl Jedi knight as well as characters we already know.
•The Crow (Buy Blu-ray at Amazon)
Based on the graphic novel by James O'Barr, this fantasy follows Eric Draven (Brandon Lee), a rock musician who is murdered along with his fiance, by a group of marauding thugs who terrorize the decaying city in which they live. One year to the day after his death (which happens to be Devil's Night), a mystical crow appears at Eric's grave; Eric rises from the dead and, with the bird as his guide, goes on a mission to avenge himself against Top Dollar (Michael Wincott), the leader of the gang who killed him. Star Brandon Lee was killed while filming a scene in which he was shot with a shell from an improperly cleaned gun that was supposed to be loaded with blanks. (1994)
•The Goonies (Buy Blu-ray at Amazon)
Adapted by Chris Columbus from a story by Steven Spielberg, the film follows a group of misfit kids (including such second-generation Hollywoodites as Josh Brolin and Sean Astin) as they search for buried treasure in a subterranean cavern. Here they cross the path of lady criminal Mama Fratelli (Anne Ramsey) and her outlaw brood. Fortunately, the kids manage to befriend Fratelli's hideously deformed (but soft-hearted) son (John Matuszak), who comes to their rescue. (1985)