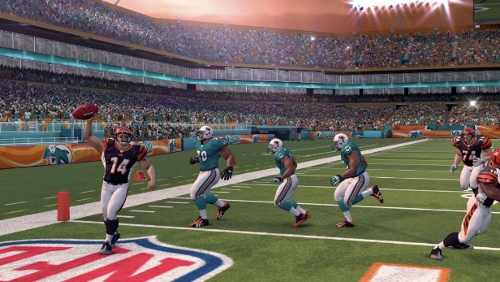 Today EA Sports put to rest a long-running rumor by officially announcing that a remake of NFL Blitz is in development for the Xbox 360 and PS3 with plans to release in January. It will round out the three mystery titles that had been kept under wraps for the January through March fiscal quarter (the other two being Grand Slam Tennis 2 and FIFA Street).
EA's most recent attempts at arcade football games have been the digital download Madden NFL Arcade (2009) and NFL Tour (2008). Both were fun games but lacked the necessary widespread appeal and never really caught on consumers. The company is surely hoping that the nostalgia factor of Blitz will bring back fans to arcade-style gaming – however they'll certainly have to handle it a lot better than they did the return of NBA Jam.
There has been some question as to whether the NFL would allow post-play actions (like elbow drops) and in general violent activity as the league nixed ideas that approached a line in the other titles – a good reason why they came across as being too sterile. According to an EGM preview the physicality will be present with Blitz. The game will feature Tim Kitzrow (of NBA Jam fame) as the announcer, the ability to customize rosters through a card-like system, on-field "power-ups", and expansive online modes.
Update: NFL Blitz will be a digital download through XBLA and PSN rather than a retail release. It will go for 1200 MS points or the equivalent $15.