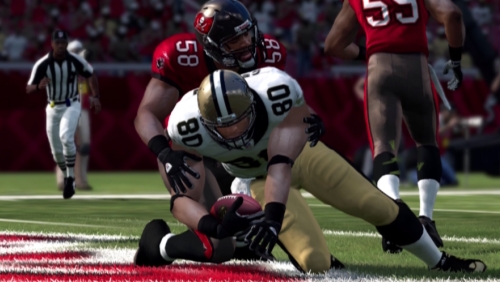 Six weeks into the NFL season and only one undefeated team remains while three have yet to record their first victory. The second tier of teams behind Green Bay includes San Francisco, Detroit, Baltimore, and San Diego with just a single loss. The upcoming roster update for Madden NFL 12 will likely further establish teams that are proving themselves as contenders this year and those that will ultimately be competing at the bottom for Andrew Luck.
The NFL trade deadline has passed and this update will reflect the deals that were completed with Brandon Lloyd headed to the Rams and Aaron Curry having been sent to the Raiders. The big one though is Bengals dealing Carson Palmer to the Raiders. As crazy as Oakland was to give up their 1st round pick in 2012 and a 2nd rounder (that could become a 1st) in 2013 for a soon-to-be 32 year old who hasn't been very good in years it acts as an immediate upgrade Madden wise. Jason Campbell will be lost in the update (which precipitated the Palmer deal) while Seahawks CB Marcus Trufant and Redskins G Kory Lichtensteiger are headed to the IR.
A couple QB swaps will take place as the Vikings have announced rookie Christian Ponder will take over for Donovan McNabb while the Redskins consider John Beck after Rex Grossman's implosion. Look for the beneficiary Grossman's performance with three of the INTs, Eagles safety Kurt Coleman, to get a ratings boost. Also in line for another bump is the Saints' Jimmy Graham who became only the second in tight end in history (matching Tony Gonzalez) with four straight games of over 100 yards receiving.
As always leave your thoughts in the comments on what players and/or teams are deserving of up or downgrades in the next Madden NFL 12 roster update!