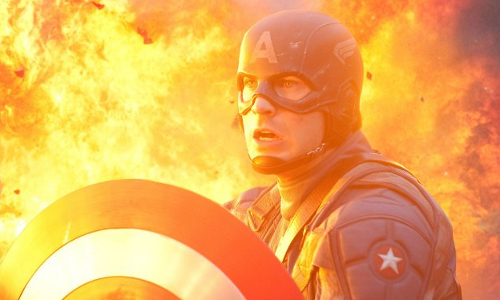 Four really solid movie options release this week – and nothing of significance TV wise. The summer blockbuster Marvel's Captain America leads the way but the Jurassic Park Trilogy (for the first time on Blu-ray) is going to intrigue many. Attack the Block was able to garner brilliant reviews and audience response but didn't gain much traction in theaters while Winnie the Pooh will hold appeal for families.
•Captain America (Buy at Amazon: DVD or Blu-ray/DVD Combo)
Captain America leads the fight for freedom in the action-packed blockbuster starring Chris Evans as the ultimate weapon against evil! When a terrifying force threatens everyone across the globe, the world's greatest soldier wages war on the evil HYDRA organization, led by the villainous Red Skull (Hugo Weaving).
•Jurassic Park Trilogy (Buy DVD or Blu-ray at Amazon or Full Gift Set)
Experience one of the biggest movie trilogies of all time like never before with the Jurassic Park Ultimate Trilogy! From Academy Award-winning directors Steven Spielberg (Jurassic Park, The Lost World: Jurassic Park) and Joe Johnston (Jurassic Park III), the action-packed adventures find man up against prehistoric predators in the ultimate battle for survival. Featuring visually stunning imagery and groundbreaking filmmaking that has been hailed as "a triumph of special effects artistry", this epic trilogy is sheer movie-making magic that was 65 million years in the making. "Welcome to Jurassic Park."
•Winnie The Pooh (Buy at Amazon: DVD or Blu-ray/DVD Combo)
Walt Disney Animation Studios proudly presents the wonderful new adventure, WINNIE THE POOH. Return to the Hundred Acre Wood for a heartwarming original movie, and reunite with the beloved bear and his silly but steadfast friends for a magical family experience.
•Attack the Block (Buy at Amazon: DVD or Blu-ray)
From the producers of Shaun of the Dead, Attack the Block is a fast, funny, frightening action adventure movie that pits a teen street gang against an invasion of savage alien monsters. It turns a London housing project into a sci-fi battleground, the low-income apartment complex into a fortress under siege. And it turns a crazy mix of tough street kids into a team of kick ass heroes. It's inner city versus outer space and it's going to explode.